From nativity scenes to ring dishes to wreaths and chandeliers, oyster shells are popular around South Carolina homes, especially in the Lowcountry. 
For the artists who make those pieces and recipients who decorate with them, the shells can evoke memories of good food and company as well as serve as a reminder of how humans shape and affect the natural world. 
"It brings back in the summer, the beaches, sand and the marshes," said Jennifer Smith, co-owner of Charleston Oyster Wreaths Co. "Even if I was wearing an oyster necklace, it would make me think about being on the coasts and all the things that bring peace and a smile on your face."
January is a big month for oysters in Charleston. Thousands of people will gather at Boone Hall Plantation & Gardens on Jan. 29 for the Lowcountry Oyster Festival, which is billed as the world's largest. Some 45,000 pounds of oysters will come and go during the festival, and the ensuing gorging and celebrating is a reminder of the cultural staying power the mollusk has in the Lowcountry — and not just in people's stomachs.
The Post and Courier spoke with three different oyster shell artists, who range in size from cottage-industry sellers to owners of brick-and-mortar stores, about how to purchase décor, art and jewelry with sustainability in mind and what makes the mollusk a perennial fixture in the home in Lowcountry culture.  
Oysters are a symbol 
Smith, 48, and her sister-in-law, Season Smith, started selling oyster décor about seven years ago when they first made wreaths out of oyster shells instead of the traditional woven mixture of foliage. Jennifer works in interior design and Season in hospitality. They bring their pieces to festivals, such as the Lowcountry Oyster Festival, and other local events. 
Their small, hobby business out of Hanahan is about family and community. Both their husbands grew up picking oysters, and a portion of proceeds go back to local charities and organizations, such as community athletic clubs, that vary from year to year. The art they make, Smith said, brings back memories.
Rachel Gordon, founder of Grit and Grace in downtown Charleston, saw the shell's ability to mark a momentous occasion and create such memories when she previously sold wedding dresses. She would give brides a ring dish gift fashioned from oyster shells. Her friends and family took notice, and she saw a market for oyster art, fashion pieces and décor. Grit and Grace now employs about 24 people with two retail stores, a wholesale collection, an art studio and an online store. Some pieces made in Charleston appear in stores around the world. 
"The oyster represents so much," Gordon, 40, said. "To have the oyster in the home feels like celebration of our culture and who we are."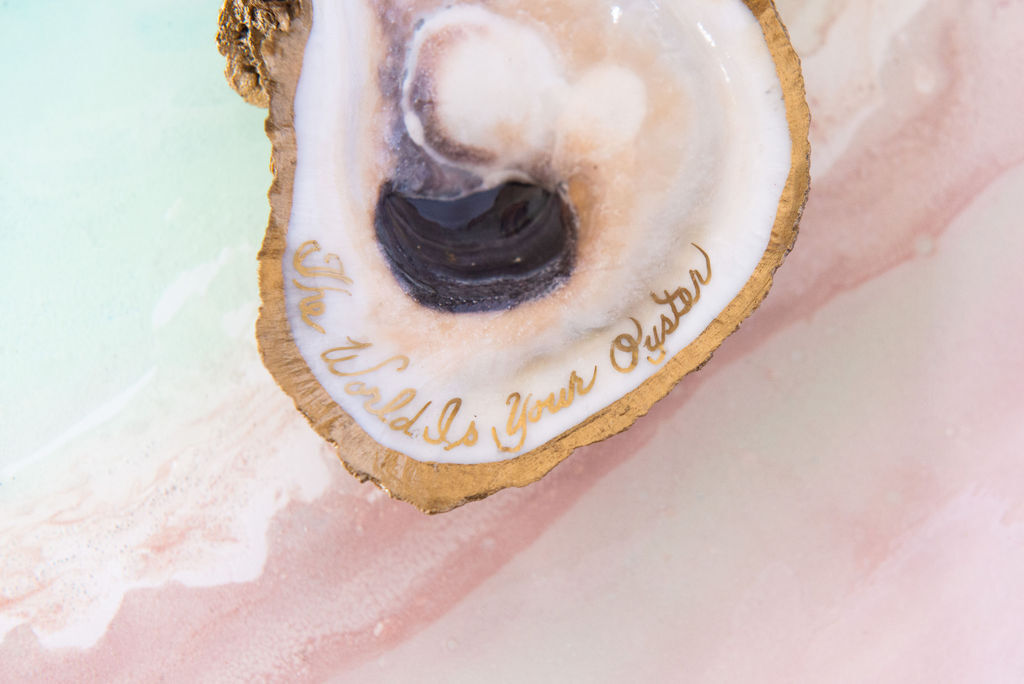 The shell is often a symbol of how people come together, she said. 
For Tina Marie Barrett, however, it's more than just that. Near the end of 2017, she underwent the first of four surgeries that ultimately saved her life after her colon became twisted and went septic. She said her doctor at the emergency room said she was hours from death.
Recovery was long and painful, and turning to art helped her navigate that time. Her rehabilitation included cutting away the negativity in her life and focusing on the positive. The oyster shell reminded her of the good times — sitting around on a weekend, sipping champagne and eating oysters — and it turned into her business, Charleston Oyster Art. 
"Oysters are the epitome of Charleston and luxury," she said.  
Barrett's clients have included the Oyster House in downtown Charleston and Shem Creek Crab House and Saltwater Cowboys in Mount Pleasant. Owners of those businesses commissioned her to create pieces, such as chandeliers or mirrors, to hang in their establishments.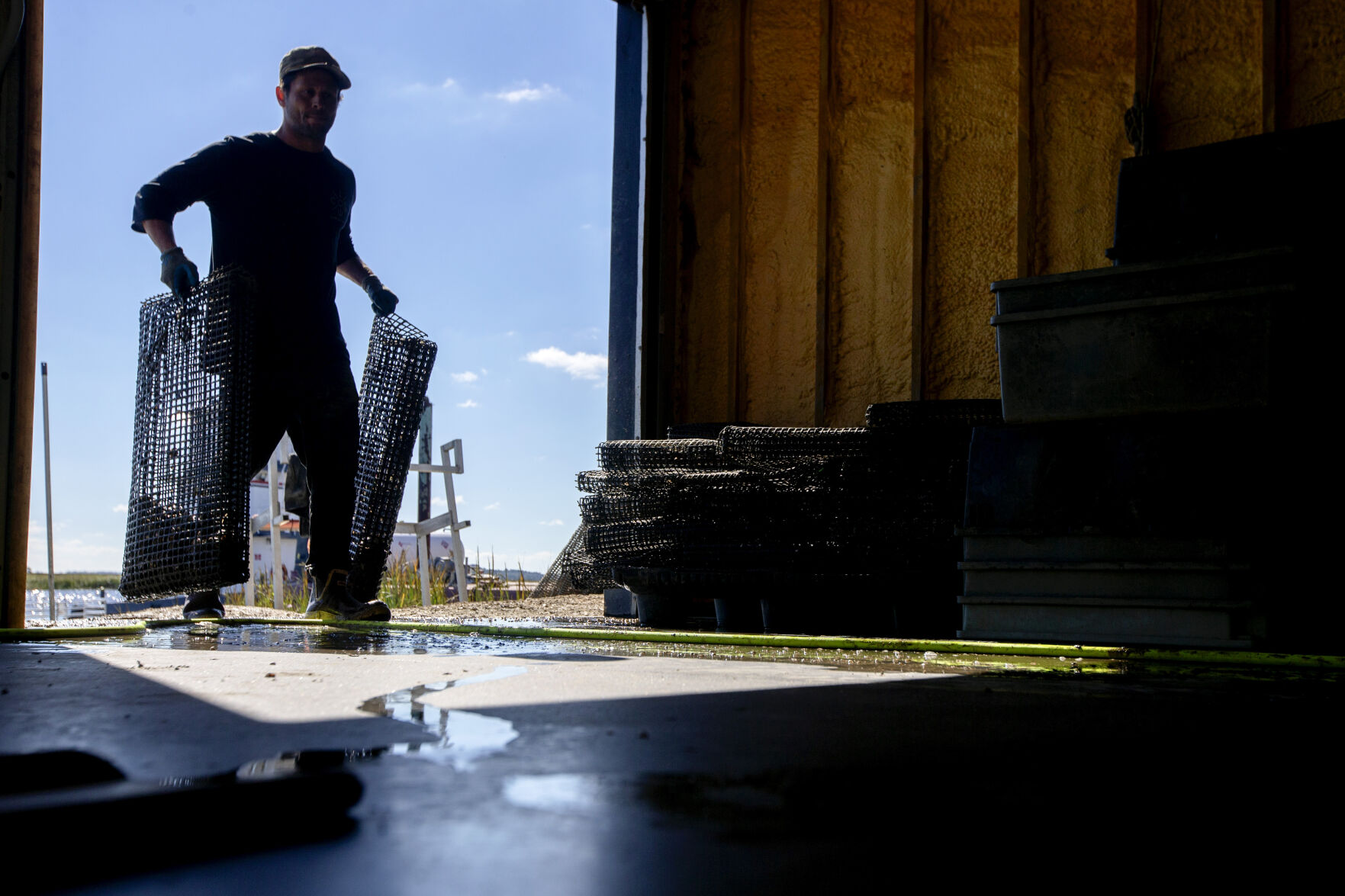 Being a smart consumer 
Oysters aid in keeping local coastal waters healthy, and recycling shells helps rebuild fisheries and reefs, prevents soil erosion and mitigates flood risk. Removing oysters means removing coastal habitat. The state of South Carolina has a critical need for oyster shells, which creates a balancing act in the minds of oyster shell artists.
Consumers should research who they're buying from and where those businesses source their oyster shells if they want to be sustainable shoppers, local artists said.
For a multi-brick-and-mortar store business, such as Grit and Grace, consumers might ask how the company is giving back to local recycling efforts.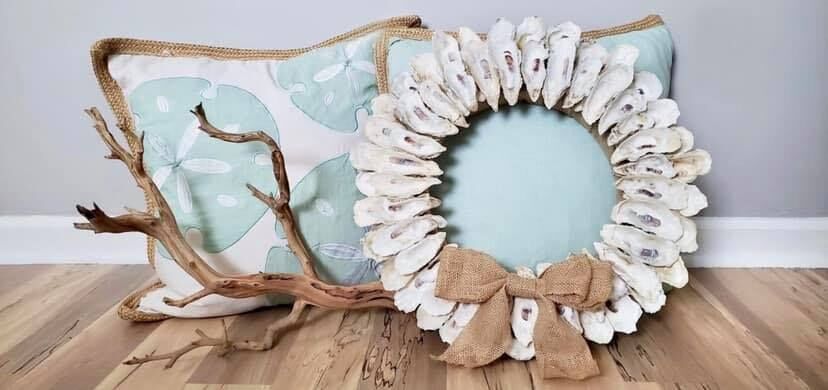 Grit and Grace makes a point to tell customers about their partnership with the S.C. Department of Natural Resources; the company doesn't only donate what isn't used but also helps with every step of the smelly and time-consuming recycling process, which ranges from oyster shell pickups to litter cleanups. Grit and Grace also puts back 10 oyster shells for every one shell they remove from the water.
A great use for used oyster shells is a donation to DNR so the state can recycle them. The state needs about 43,000 bushels of oysters shells every year to reseed its oyster beds. That includes oyster beds that exist solely to protect coastal land.
Last year, the state collected about 35,000 bushels from festivals, businesses and members of the public and needed to make up the difference by purchasing shells in bulk. Sunday's festivities at Boone Hall will contribute 3 percent of the total shells collected this year, Stephen Czwartacki, head of the DNR's oyster shell recycling program, told The Post and Courier last month. 
People interested in participating in the program can visit the DNR's website, saltwaterfishing.sc.gov/oyster.html.
"I knew I would never create or grow a business without giving back," Gordon said. "I think the most important thing, like with any company, is to research their values. Call them, contact them, ask how they source their oysters and what their volunteer work is like."
The process for vetting smaller sellers working out of their home, either as a side job or as a passion project, is similar. It might be worth asking the question, "Where are they getting their shells from?"
Barrett said it's important that artists and sellers don't siphon shells from businesses that are active contributors to DNR's recycling program. Smith said sellers should also make clear what they do with their leftover shells. Smith said the shells she and her sister-in-law use come from friends and family and other community members in the Hanahan area.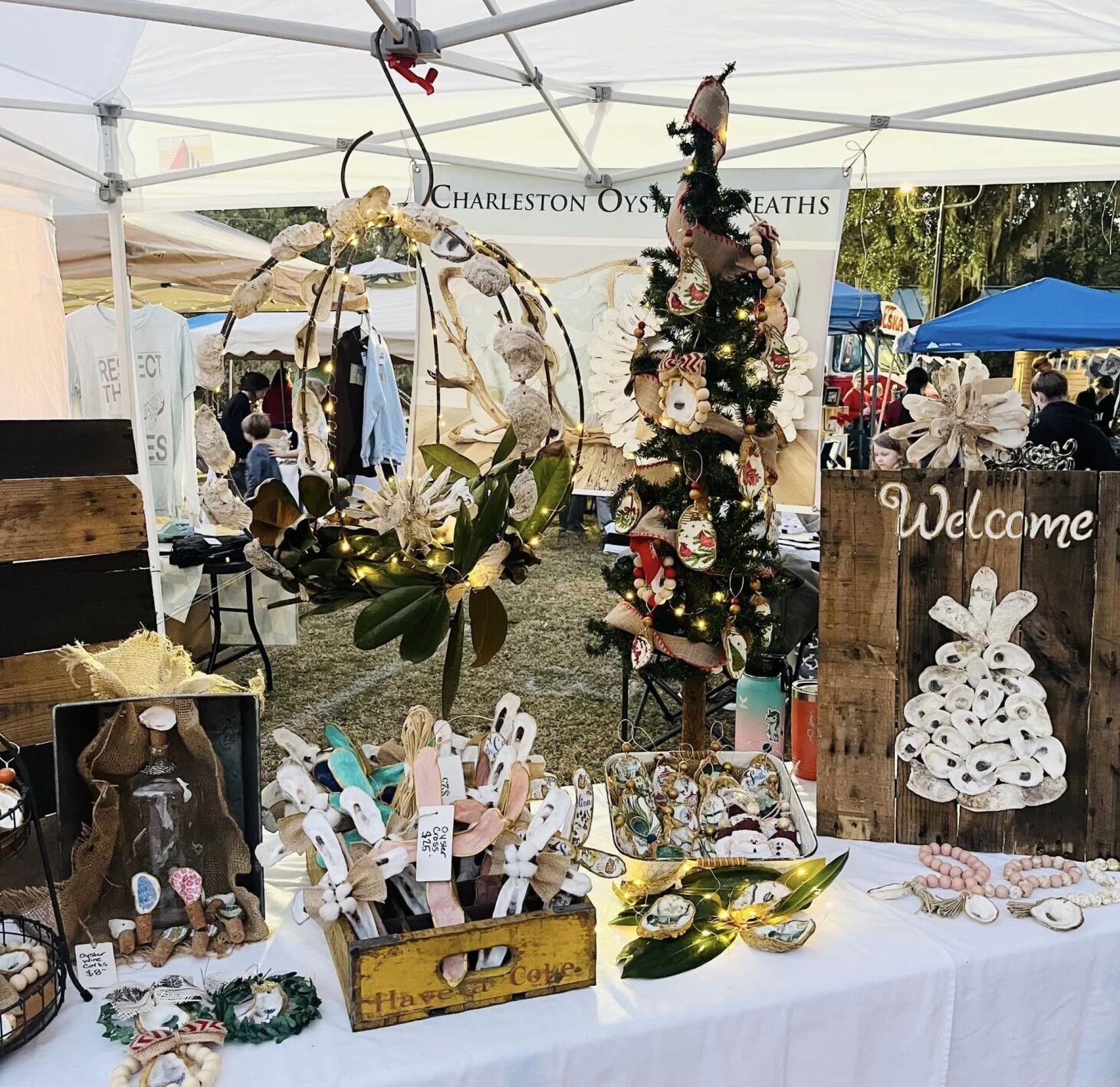 Scientists and conservationists don't endorse the use of shells in this manner because of the need for them in reseeding beds. But, the shell has long been a part of the culture of the Lowcountry and a part of local art. 
"People are going to search for these things," Smith said. "Don't take more than you use. We all should be conscientious. Everything we use is basically a trash pick, something people throw on the side of the road that they're not going to use. We don't go looking for oysters. We don't dumpster dive."
Smith said there's also a practical limit on cottage-industry sellers: time. Collecting the right shells and turning them into a series of wreaths is time-consuming work, and only a limited quantity of oyster shell pieces are produced each year.
Of those, many can be found in Lowcountry homes.