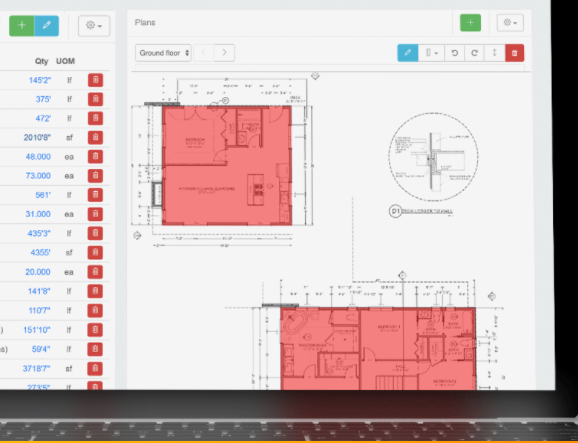 Digital takeoff software is becoming increasingly popular in the construction industry, making it easier to navigate bids and estimates with efficiency and ease.
Construction takeoff software is designed to help construction businesses improve operations, streamlining takeoff processes and achieving faster, more accurate results. Using high-quality takeoff technology, you can grow your business and respond well to common industry challenges.
Read on to find out how using takeoff software can help you overcome challenges in construction tasks and projects.
Save time and improve efficiency
Manual construction takeoffs are time-consuming, taking valuable time away from other business management and construction tasks. By replacing manual takeoffs with construction takeoff software, you can streamline business operations exponentially to achieve much more efficient processes.
When you use digital takeoff technologies, you can limit the need for manual processes like manually counting objects. Instead, you'll rely on automation to complete these tasks in a fraction of the time! Additionally, software applications allow you to perform takeoffs on multiple items in the same area, helping you combine tasks to improve efficiency.
Improving takeoff efficiency can give you a competitive advantage in the job marketplace. By producing takeoffs and estimates quickly, you can give yourself more time to review and double-check information. You can also get back to clients with bids more quickly than your competitors.
Takeoff software also reduces the time you need to spend reviewing construction plans, providing you with a clear, efficient way to see and identify plan changes. This helps you avoid missing key details.
Accurate and time-saving processes reduce the likelihood that takeoffs will need to be repeated again and again. They also make it quicker and easier to repeat or edit takeoffs if they do require changes.
Improve accuracy of takeoff data
When producing construction takeoffs, it's important to maintain accuracy. This can help you cut down on unnecessary back and forth between clients, helping you create accurate initial plans and get to work quickly.
Digital takeoff software allows you to produce accurate estimates and deliver accurate bids. While manual takeoffs are highly susceptible to human error, digital takeoffs are designed to avoid miscalculations and organise data effectively.
Construction takeoff software can automatically generate accurate measurements for volume, height, perimeters, surface areas, and more. This precision at the takeoff stage makes it easier to be precise further on in the project.
Accurate data at the takeoff stage is essential in preparing you for accuracy throughout a construction process, as well as helping to establish clear expectations for you and your clients. When you rely on highly accurate systems to produce takeoff information, you can reduce the need for takeoff revisions, making it easier to stay on task going forward.
Takeoff software is an important component in ensuring that you are setting yourself up for success in all construction projects you undertake. With accuracy in mind, you can save time and stress, focusing your energy where it counts: working on construction tasks.
Visit the Buildxact website to find out more about how our digital takeoff software can help you improve your business operations.