We all hanker after a good-sized dining room, especially for those with families or if you love entertaining. But unfortunately, a large dining room space isn't always on the cards. If your dining space falls into the small size category, there are several small dining room decorating mistakes you should aim to avoid if you want to create a beautiful fully functioning space. 
Get your small dining room ideas right and the space will become an easy-on-the-eye room that's practical and stylish. Colour is a big factor and one that can dramatically change the size of a room visually and paler shades can be a winning option. 
Another area to research is small dining room lighting ideas – get the proportions right and the result will be a light room that has layers of lighting that will ensure your dining room is lit well from the rushed breakfast during the week to a relaxing dinner with friends. 
Small dining room decorating mistakes to avoid
Dark, and cramped with oversized furniture is the opposite of what you want one of the most social spaces in your home to feel like. Knowing what small dining room decor ideas work is as important as knowing what doesn't. Here are the small dining room decorating mistakes we'd recommend avoiding, and what you should do instead.
1. Opting for a tablecloth over a runner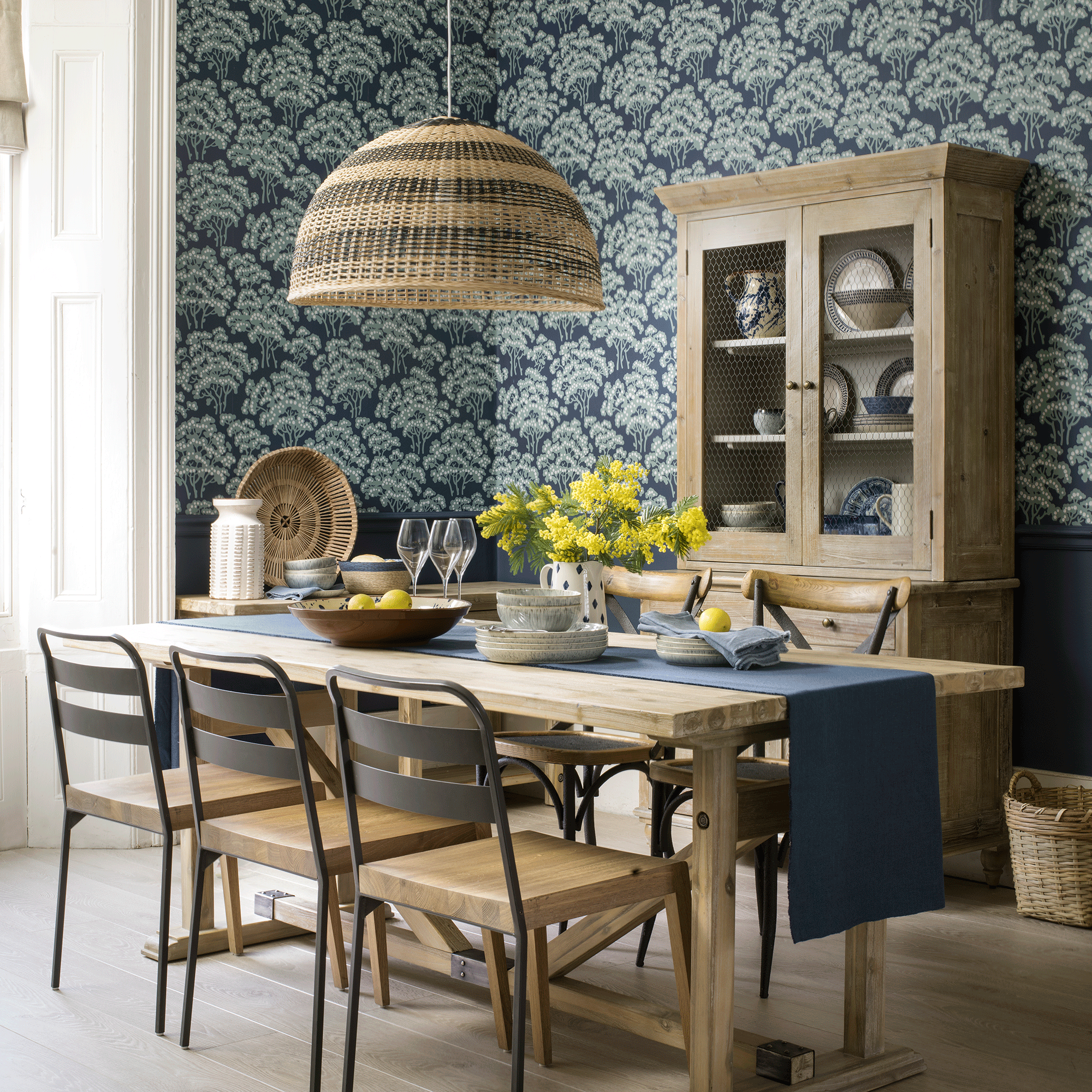 'The use of a tablecloth can be very useful if you want a softer look, or if you just want to cover up a badly scarred tabletop. However, be aware that a tablecloth adds visual bulk to the table and can make the room feel more hemmed-in,' warns Simon Temprell, interior design manager, Neptune (opens in new tab).  
If you're decorating the table in a small dining room Simon instead recommends trying a table runner. 'Table runners can offer you a compromise and will give you the opportunity to introduce some colour and texture.'
2. Not considering a circular table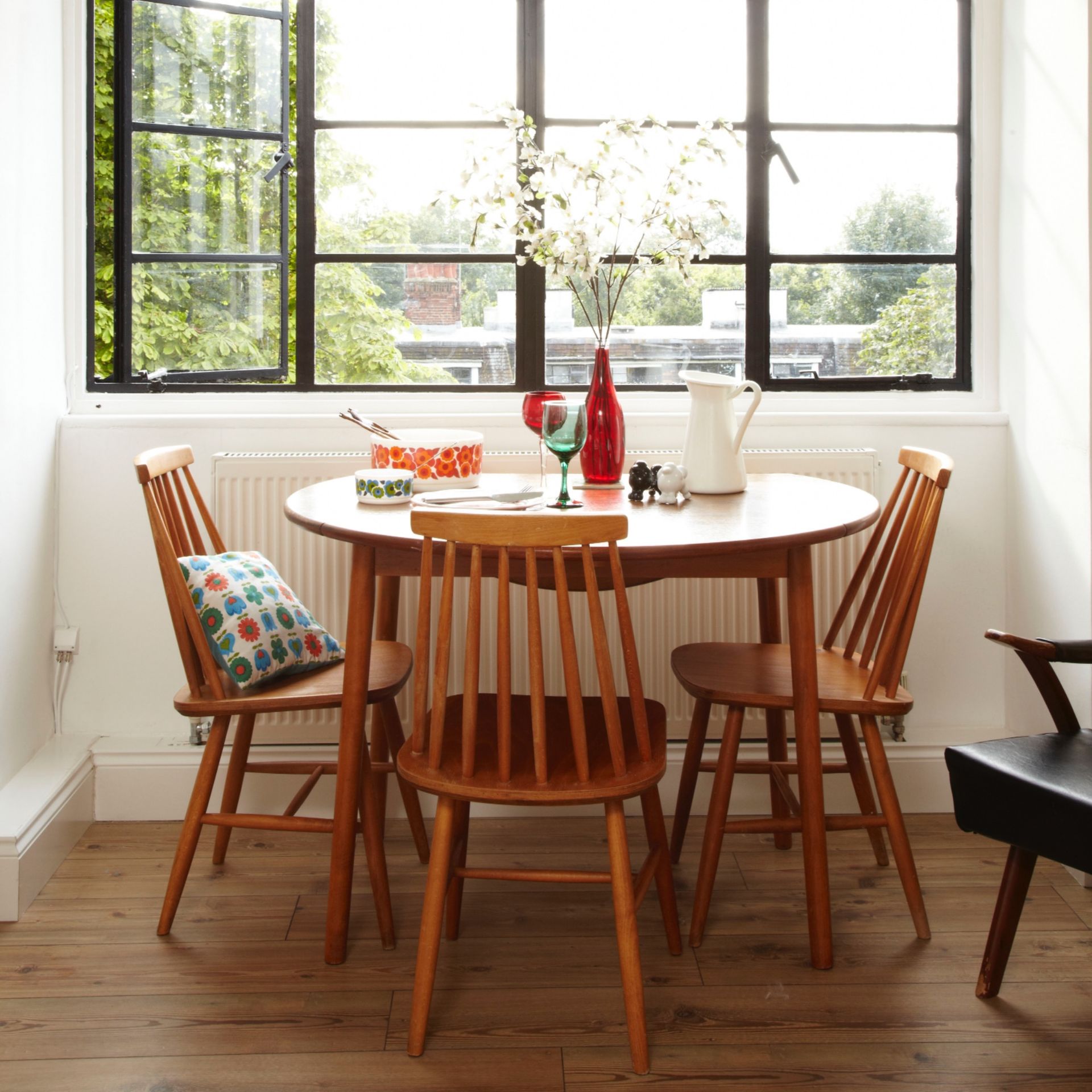 Circular tables tend to get bad press, but one big advantage is no more bumping into the corners of a square or rectangular design – always a win! They are generally more of a one-sized option but can look fabulous when teamed with chairs that have a curvy element, it all helps the eye to flow, which in the case of a small dining room space is paramount. 
Another benefit is they have a smaller footprint than square or rectangular tables of a similar size so can trick the eye into thinking that the space is larger than it is as you can see more floor space. Some designs available utilise a central leg instead of four, solving any legroom issues.
They're also more sociable as they're easier to walk around, and everyone can see each other, enabling the conversation to flow more smoothly.   
3. Playing it safe with a plain scheme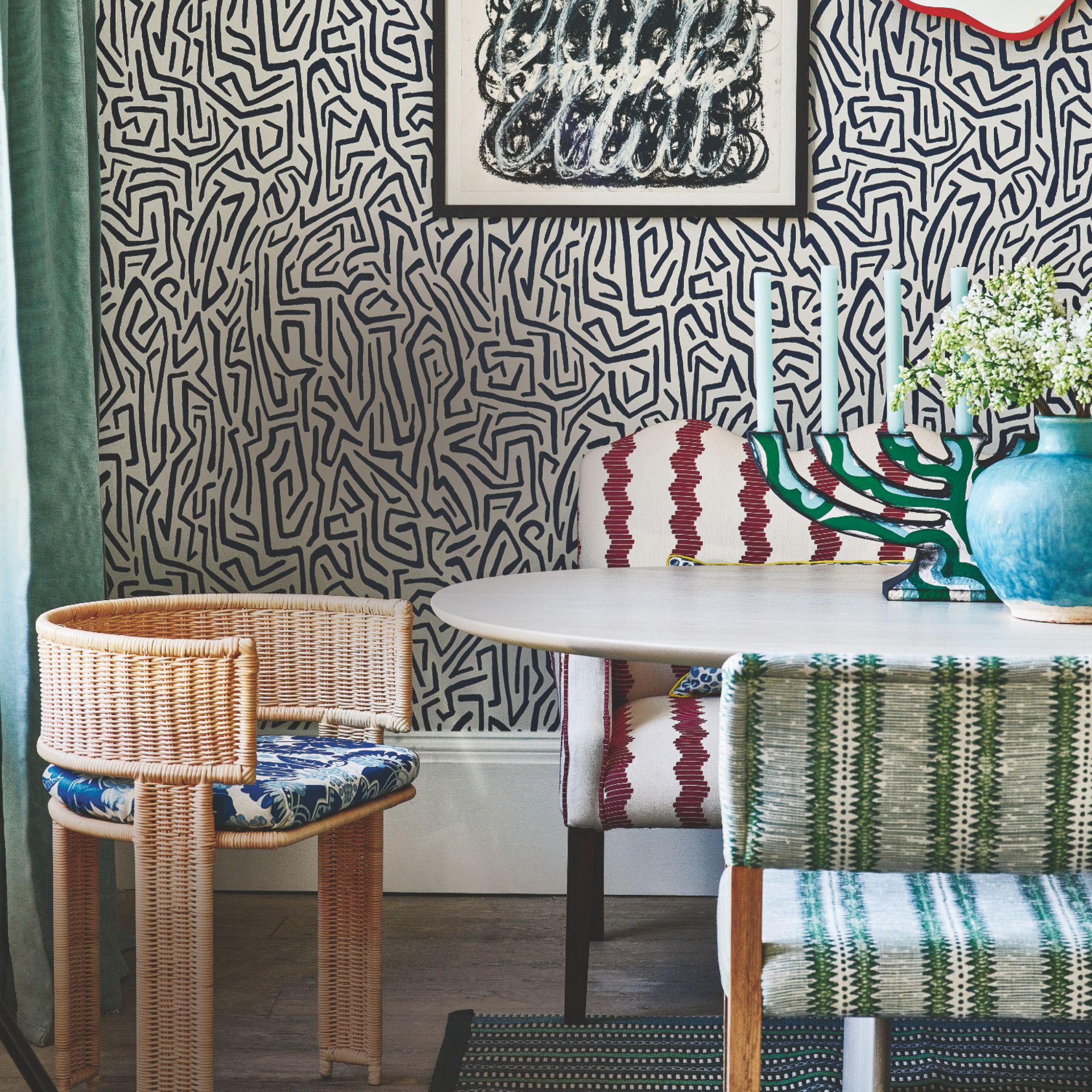 A common small dining room decorating mistake to avoid can be defaulting to a plain scheme over one that's vibrant and full of colour. We tend to think that kind of interior design only works in a spacious room but it can work successfully in smaller space. 
Using patterned dining room wallpaper ideas and fabrics will create a scheme that's bold, and it will help to distract the eye from the size of the dining room and brighten up a dark corner. 
Start with a couple of colours that work well together like blue and green and consider a monochromatic element too. Pop in an accent like red or yellow, but do add balance with a plain floor or white table.
4. Scrimping on the storage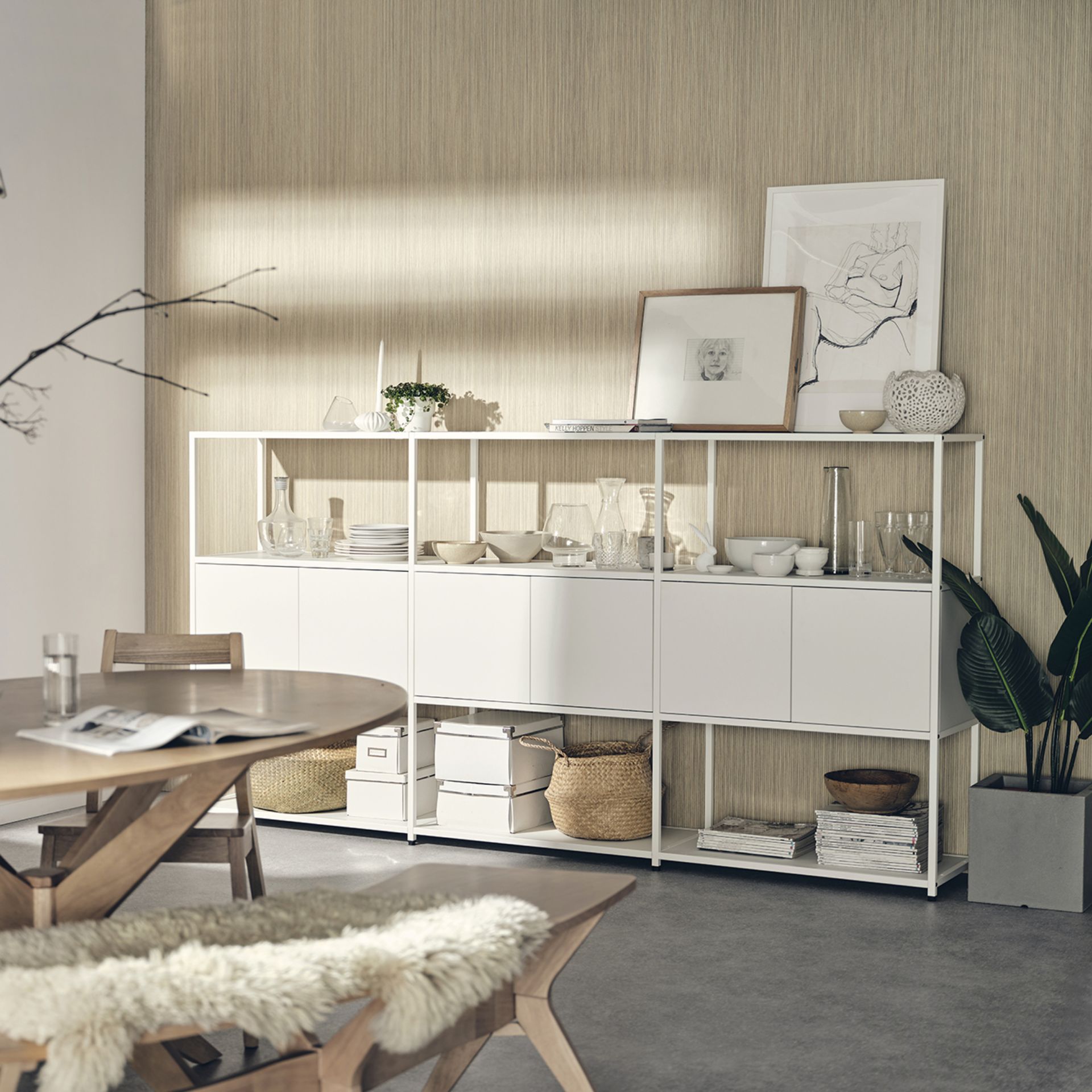 When space is tight in a small dining room it's easy to believe that there's no room for the usual storage furniture like a sideboard for example. Our brains tell us that it will take up too much room and look cluttered but if you pick wisely and opt for a slimline unit you'll reap the benefits. 
'The dining room often has many functions, from hosting to casual dining and in some cases homeworking, therefore it's important to ensure you have enough space to keep everything safely stored away. Not allowing for enough storage in the dining room can sometimes make a small space feel even smaller,' says Jonathan Clark, creative director, Shelved (opens in new tab). 
'Shelving units are great for displaying your favourite glassware, serving dishes and accessories but cupboards have their uses too, providing the perfect place for the less aesthetic yet practical items often found in the dining room.'
5. Choosing a table that doesn't fold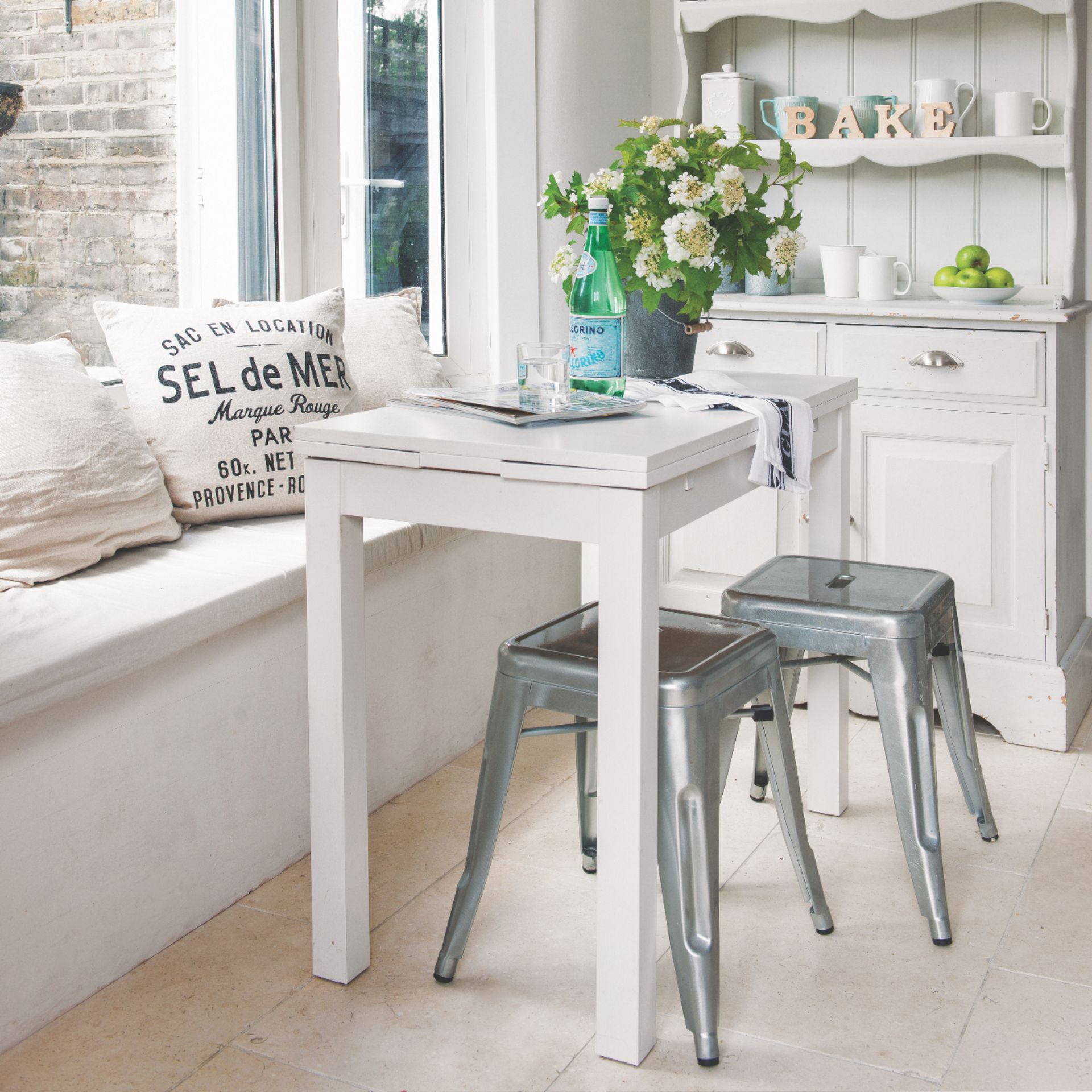 When space is at a premium there is no smart solution that a table that has leaves that fold up and down as you need. Folding tables have been around for decades, and when we think of folding tables we generally think of heavy antique tables with the extra leaf in the middle, but you can get simpler designs (Wayfair has a lovely selection (opens in new tab)) where the leaves fold up rather than having to take pieces out. 
These nifty designs enable you to keep the dining table small and neat for breakfast and then open up for evening meals and entertaining. Stools that fit underneath will keep them tidy and out of the way until needed too. 
6. Going small with your lighting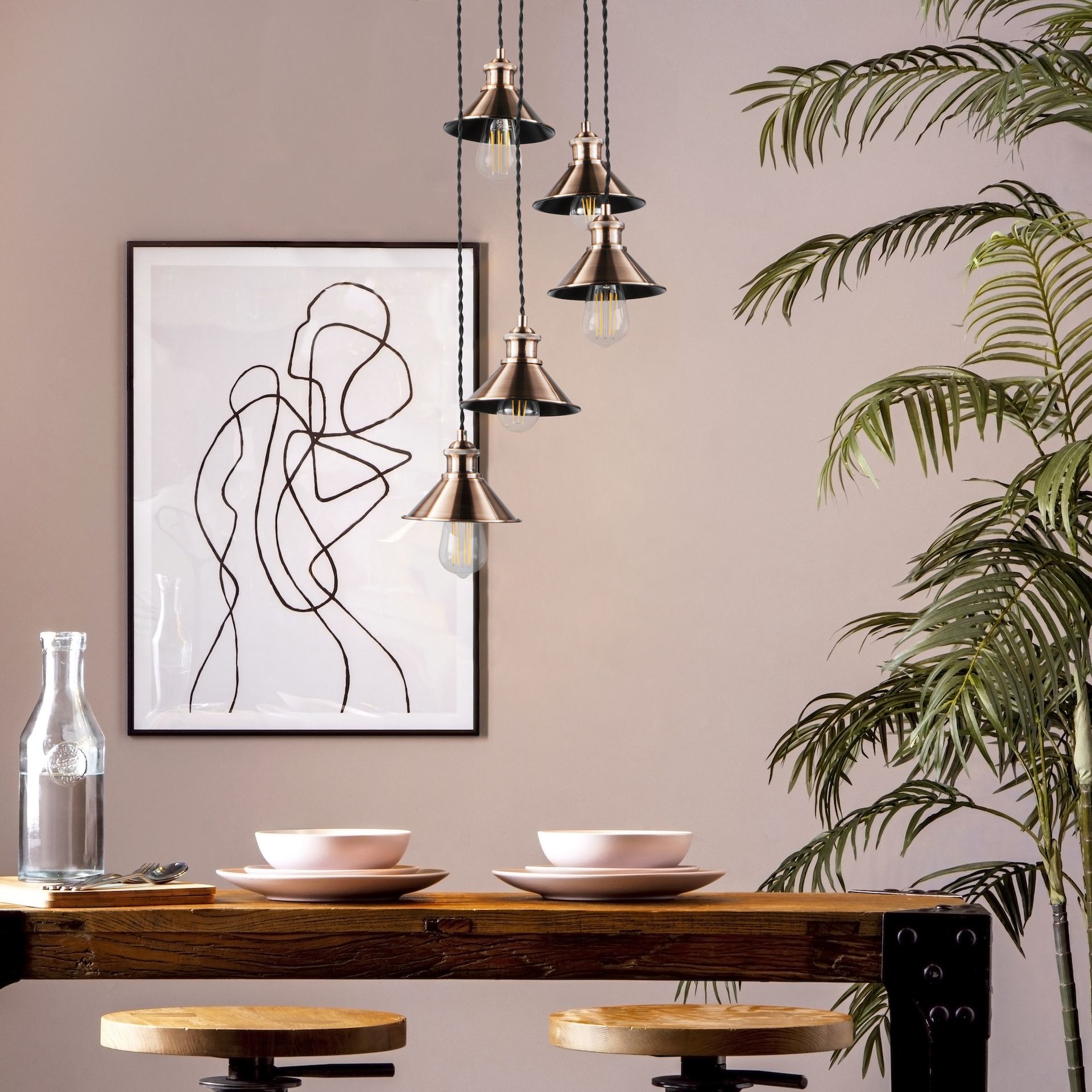 Good dining room lighting ideas will transform a small dining into a cosy and inviting space. Just because you are working with a small space doesn't mean you need to go small, however, do choose the dimensions carefully. 
'When hosting family and friends around the table, good lighting is a must! Create a focal point by hanging a decorative pendant light above the dining table – for a statement try a show-stopping chandelier. There is an increasing desire for lighting that looks as good switched off as it does on and this has led to more searches for bubble motif lighting, a trend set to grow as homeowners search for more playful and uplifting interior accents.
'For smaller rooms, you also may want to choose a lampshade that is narrower, whereas in larger rooms you want a wider lampshade to fill the space better,' says Julian Page, head of design, BHS (opens in new tab).
7. Trying to fit a large table into a small space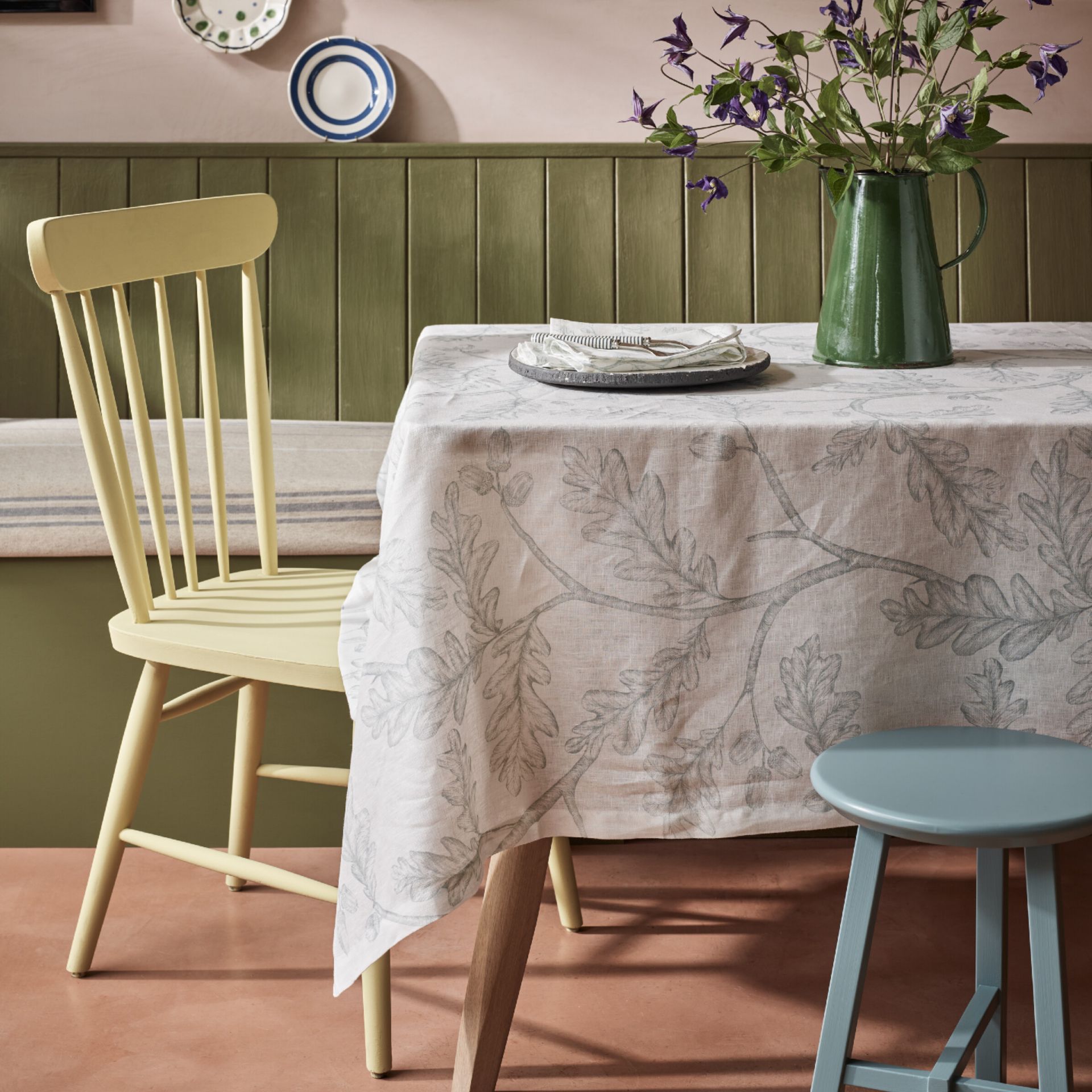 We've all done it – tried to get a favourite armchair or table into a room where it doesn't fit because we love it so. But bulky furniture takes up space, physically and visually so it's important to choose pieces that are the right size for the space. 
'Square tables are very handy for pushing into corners when not in use, but if you would like to sit chairs around your table every day then remember that you need a minimum of 150cms clearance to push back your chair to get in and out. Consider using a bench on one side of the table to save space,' says Simon Temprell, interior design manager, Neptune (opens in new tab). 
8. Not choosing a common theme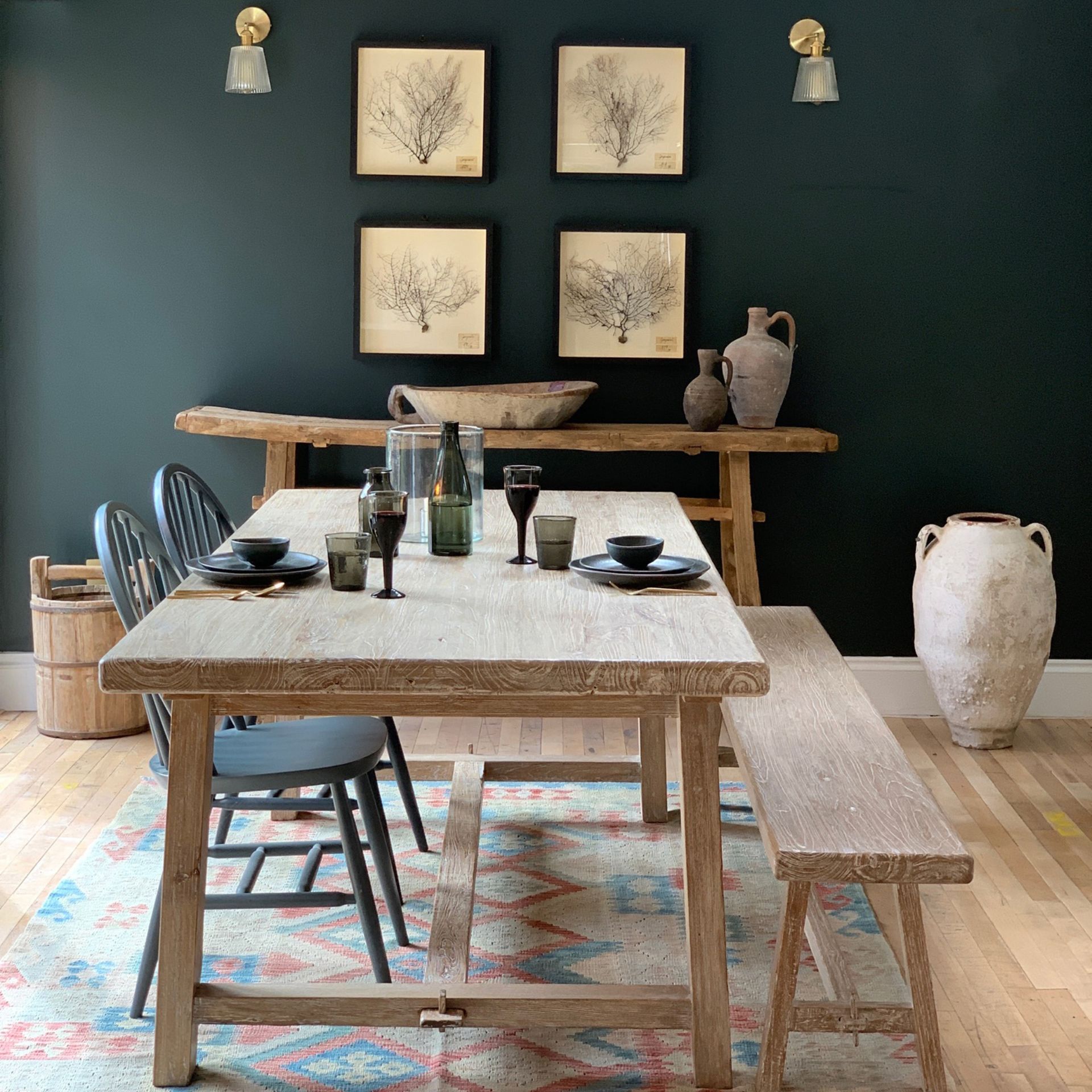 Choosing furniture that matches – like a rustic theme for example, will give a sense of cohesion to a small dining room and 'unifies' a look. It has its place and can create a calming feel. 
'Adding a statement table into the dining room will also ensure that the size of the room is not nearly as defining as the table in the middle,' says Sarah and Sally Wilkie, founders, Homebarn (opens in new tab). 'Reclaimed wood is a strong favourite, thanks to its rustic appeal and environmentally friendly nature.'
9. Only using chairs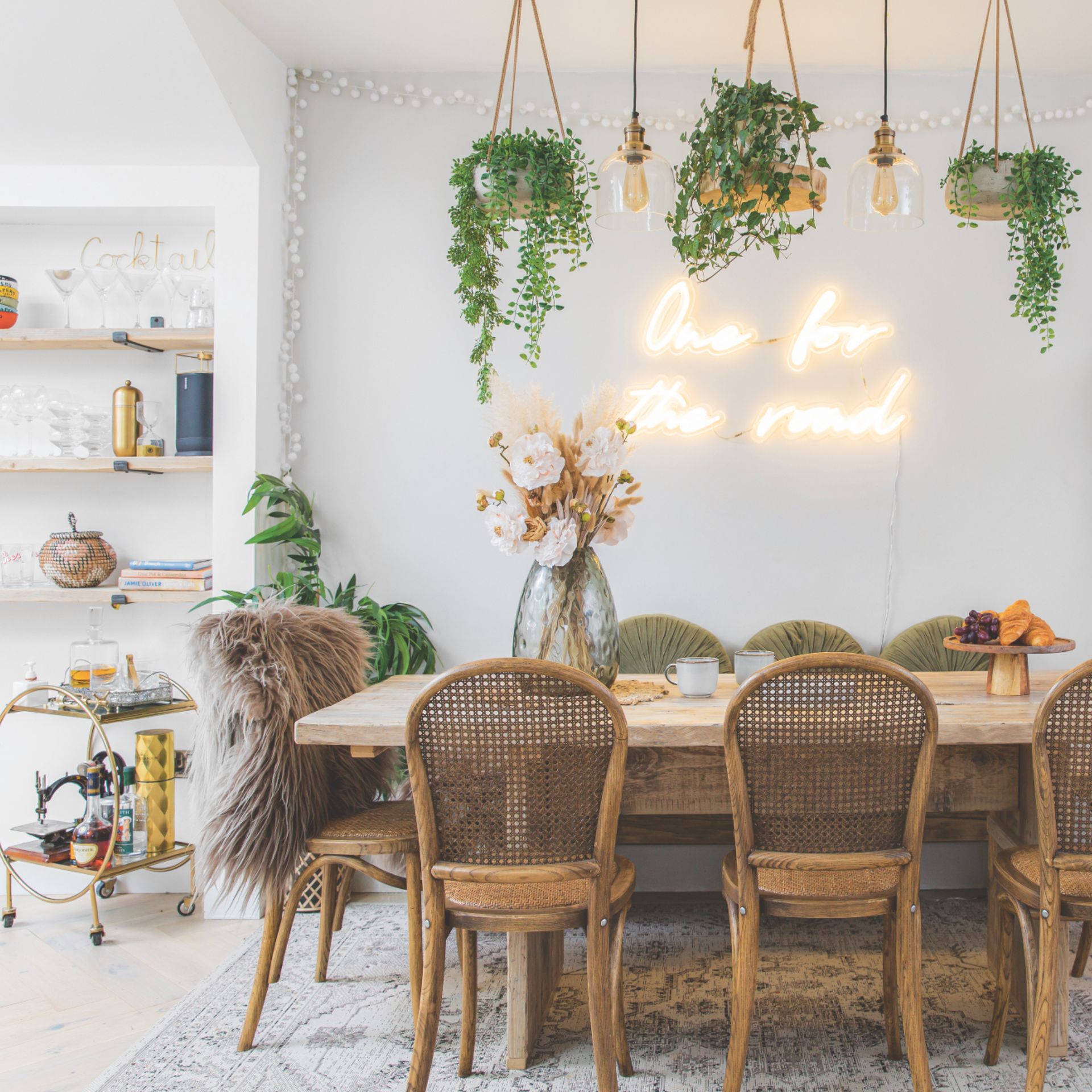 When designing a small dining room it would be a big mistake to feel you are confined to the traditional dining room set up of a table and chairs. Bench seating can be a much smart solution to make the most of a small space. 
Bench seating is underrated and so useful for small dining rooms – it means you can seat more people and use chairs on the opposite side. One top tip is to ask your joiner to create a long bench seat with a hinge so you can use it for storage too. You can also build your own bench seat yourself with space for storage baskets underneath. 
For added decoration pop up a long but narrow open shelf for displaying small artwork and ornaments. 
10. Contrasting colours in a narrow space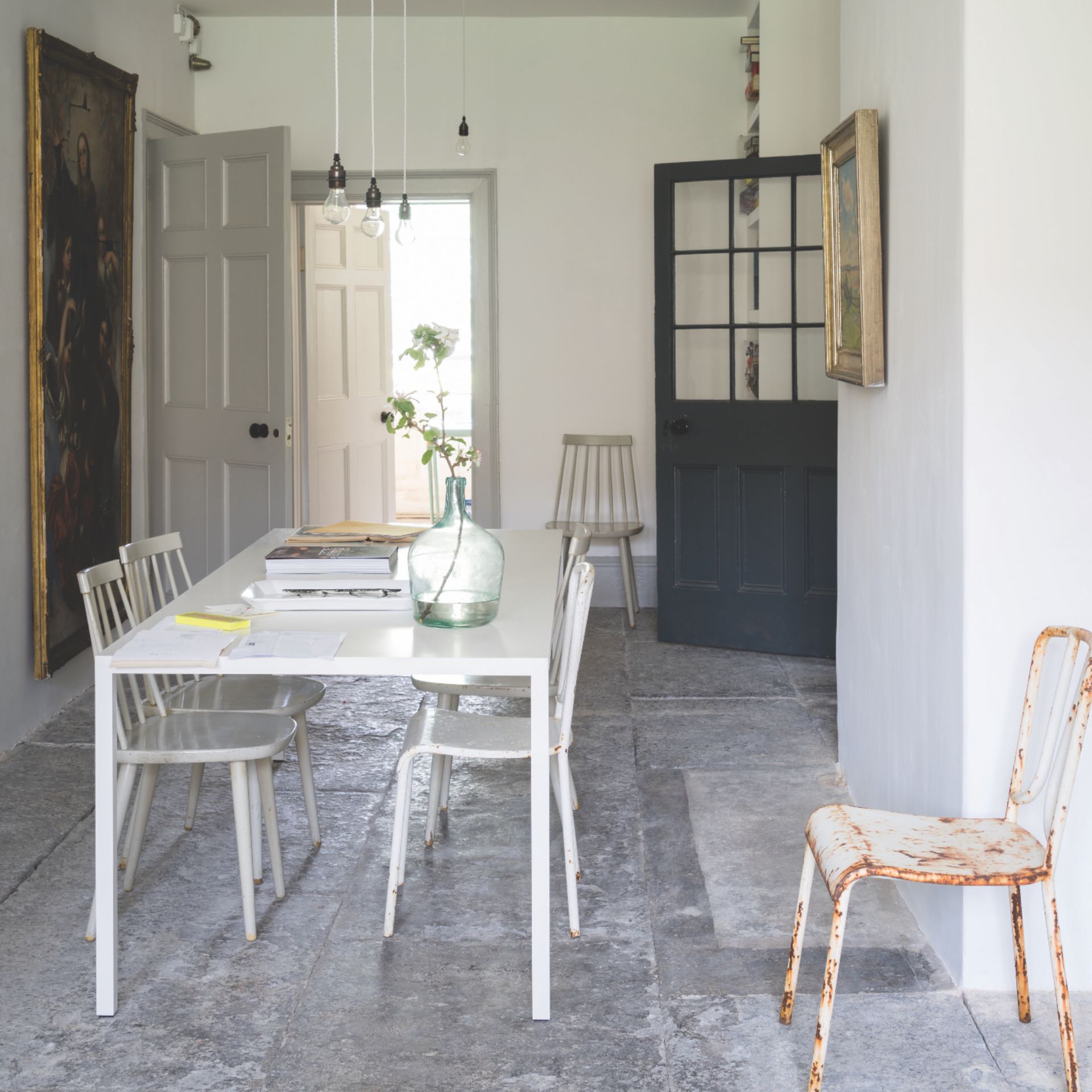 Small can mean a lot of different things in a dining room, if small to you is narrow then you will want to steer clear of too many contrasting colours. 
'Try and avoid too many contrasts in colour or if narrow almost verges on tunnel, paint the end wall a couple of shades darker than the other 3,' recommends Patrick O'Donnell, brand ambassador, Farrow & Ball (opens in new tab).
'This will help the former advance and 'square' up the space. You could also consider decorating with paper- something graphic will be visually distracting and even better if the design motif has a horizontal bias, this will help the illusion of width.'
How can I make a small dining room look good? 
With a bit of clever planning and considering the size of your basics – table and chairs or bench combination, a small dining room can be both stylish and practical, but do incorporate storage into your design scheme. 
'Modular storage units and sideboards are perfectly suited to small dining rooms; by placing these along one wall and maximising all the available vertical space you can create a solution that not only looks good but functions well too. 
By keeping storage units to one wall only, you are freeing up additional wall space for artwork, family photos or a decorative mirror – floor-to-ceiling units will also allow you to save valuable floor space by using vertical space instead,' says Jonathan Clark, creative director, Shelved (opens in new tab). 
How do you deal with a narrow dining room?
Narrow rooms can be tricky, but still have great potential as a dining space and can elevate the room from a walk-through space to one that's functional and easy to spend time in.
'Instead of buying a round table for a narrow dining room, a longer table would be much more beneficial. A long table will ensure that there is plenty of space to sit around as well as move around without awkwardly shimmying behind furniture to get to the other side of the room,' say Sarah and Sally Wilkie, founders, Homebarn (opens in new tab).
'For long narrow rooms, feature shelving can really help to zone the space, acting as a room divider to create an intimate dining setting. Not only does this offer a place to display photo frames, plants, and other prized possessions, but it will create a clear separation between spaces, helping to break up the room whilst also remaining functional,' adds Jonathan.