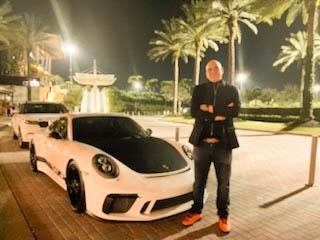 Just like finished basements and open floor plans, Ahmed Elbatrawy knows buying and selling homes never goes out of style.
In fact, the real estate industry is booming. Fueled by the global pandemic, the housing market has soared to unprecedented heights. The S&P CoreLogic Case-Shiller U.S. National Home Price NSA Index, which tracks and measures changes to the U.S. residential housing market, reported its highest gains in over 15 years. The annual increase in home prices was a staggering 18.8% for 2021 alone. The market is showing little signs of slowing down.
Unfortunately, real estate technology has struggled to keep pace. Real estate agents have been slow to adopt the digital practices that have permeated other industries. With the pandemic exposing shortcomings and vulnerabilities in most real estate companies' current capabilities, the demand for innovation has never been higher. Luckily, Ahmed Elbatrawy is leading the charge.
Sensing a deficiency in available property tech, Ahmed Elbatrawy built his own solution. He and his company, Platform Leaders, created homes.com.eg. Set to launch this year homes.com.eg will be launching in Egypt only. It will then be launching in the middle east (UAE, Saudi Arabia and Egypt) and then launching in the US. The groundbreaking new product will create an industry-leading customer relationship management software. Although this new product will only serve the Egyptian market, it's an example of the technological expansion that will be infusing the real estate industry worldwide. The multi listing service that Platform Leaders is bringing to the middle east will be like the MLS system already present in the US. Platform Leaders will be the first to introduce that system in the middle east.
As an innovator, Ahmed Elbatrawy has a pulse on what revolutionary new changes might be coming in the near future. Drawing on his decades of experience, the Orlando-based Realtor highlights five trends that he predicts will define how homes are bought and sold in 2022.
Artificial intelligence
If the goal is to "always be closing," artificial intelligence can keep working even when you're not on the clock. But this isn't some futuristic, sci-fi storyline. AI has a unique ability to automate real estate processes. Ahmed Elbatrawy expects chatbots and virtual assistants to continue to emerge as the first point of contact with prospective clients.
Virtual reality
Imagine visiting a property without ever leaving your own home. In many ways, the future is now. The same technology that has influenced gaming is available to real estate agents too. Virtual reality, augmented reality, and 3-D modeling have transformed the traditional idea of a "showing." And this extends beyond viewing a single property. Clients can "walk" neighborhoods from anywhere.
Blockchain
Digital security is at a premium. Blockchain enables real estate agents to engage in permanent, verifiable transactions without the fear of data breaches, hacks, or fraud. Physically signing on the dotted line with pen and paper is a thing of the past.
Data management and analytics
Real estate technology is also equipping agents with actionable insights. Ahmed Elbatrawy sees centralized data management as an increasingly important sector. Automation and application in other areas have enabled decision-makers to collect and review data in real-time.
Apps & Social Media
In only 140 characters or less, social media has already been changing the real estate industry. Ahmed Elbatrawy and others have already embraced these platforms as a way to market their businesses. Social media allows direct access to potential clients. With a few clicks or scrolls, buyers and sellers can interact with agents, review listings, and even watch video walkthroughs.