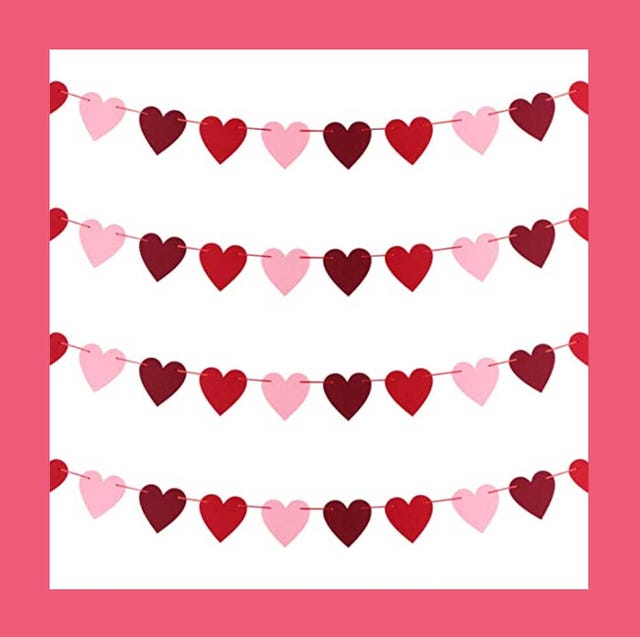 Vintend/SINORANGE
Decorating your home for Valentine's Day may include hanging a heart-shaped wreath on your front door or having a vase of fresh cut flowers on your dining room table at all times. But if you are looking to switch up your home decor pieces for the holiday, there are affordable Valentine's Day decorations on Amazon that are the right amount of cute without being too over the top cliché. But then again, February 14 is all about showing your partner how much you love them, and if that involves a Valentine's Day gnome, then who are we to say no to that?
But seriously, Amazon is a great one-stop online retailer for budget-friendly Valentine's Day decorations, as well as craft supplies if you are looking to DIY your own banners. You can find pre-made heart decorations, bright pink lights to string around your room, cozy blankets for your couch, and luxurious candles to set the mood for date night — all for less than $35. And if you are spending Valentine's Day with your Galentines or the kids, then decorating the space is a fun activity that also gets everyone in the spirit.
Keep scrolling to find the best Valentine's Day decorations on Amazon to add some red, pink, and heart-shaped flair to your home as we approach February 14.
Advertisement – Continue Reading Below
1
only 5-star reviews
SINORANGE
Felt Heart Banner
2
best valentine's day lights
612 Vermont
Pink String Lights
3
affordable valentine's day wreath
J'FLORU
Wreath with Cute Hearts and Berries
4
cutest valentine decorations on Amazon
Vintend
Valentine's Day Gnomes
5
valentine's day kitchen decor
ARKENY
Kitchen Towels
6
romantic valentine's day decor
FURORA LIGHTING
LED Flameless Candles with Remote Control
7
multi-purpose valentine's day home decor
Sizikato
Heart-Shaped Porcelain Dishes
8
best candy-inspired decorations
AnyDesign
Heart-Shaped Wood Tabletop Decorations
9
Climate Pledge Friendly
Amazon Basics
Heart-shaped Pillow
10
for a cozy date night
Valerian
Velvet Blanket
11
cutest valentine's day signs
Bunny Chorus
Wooden Table Signs
12
valentine's day wall decor
SEVEN STYLE
Red Felt Garland
13
best neon heart light
BHCLIGHT
Neon Heart Light
14
best for a valentine's day party
The best MOON
Heart Shaped Pink Straws
15
'I burn for you'
Benevolence LA
Lilac & Rose Scented Candle
16
best Valentine's Day wreath on amazon
The Wreath Depot
Pink Tulip Wreath
Advertisement – Continue Reading Below