Valentine's day decor doesn't have to be cliche, you can, in fact, celebrate the season of love in a way that's stylish and sophisticated. 
Whether you are looking for romantic bedroom ideas or the backdrop for a date night dinner, the secret to successful Valentine's day decor is to make it personal. Instead of a whirlwind of red and pink heart decorations, thought-through decor which draws on memories and genuine feelings of love will capture the atmosphere much more successfully. 
In the same vein, when it comes to Valentine's day decor less is more. Too many heart motifs and red and pink on every surface will feel overwhelming, while a few artfully chosen pieces that carry meaning will create a more aesthetically pleasing scheme. 
Valentine's Day decor ideas
To help you create the perfect scheme, we've asked interior designers for their top tips on decorating your home with elegant Valentine's day decor. 
1. Curate a cozy nook for conversation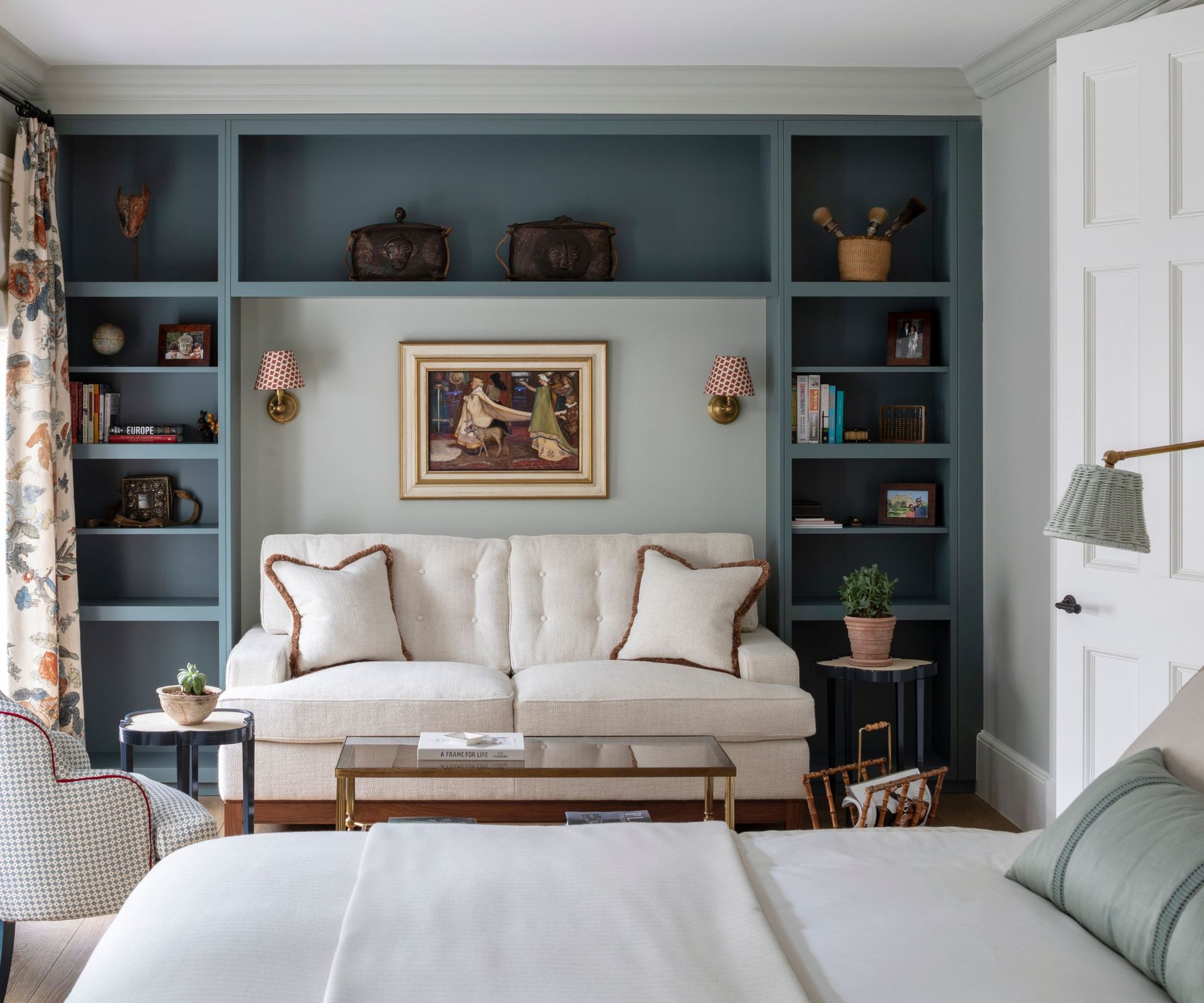 Cozy corner ideas are currently having a moment in the spotlight this Valentine's Day. We've seen more and more people wanting to transform neglected nooks into functional and inviting spots for engaging conversation and comfort. 
The best thing to put in a cozy nook is plenty of texture and soothing colors. Using texture in interior design can determine how a room looks and feels, from warm and cozy to cool and contemporary.
In this decadent space, designed by the team at Kitesgrove (opens in new tab), personal touches, and decorative furnishings make this space oh-so personal. Here, this beautiful wall of bespoke joinery is hugely characterful and provides plenty of open storage – a great choice if you still wish to display your favorite photographs and trinkets from your relationship.
2. Give your throw cushions the romantic treatment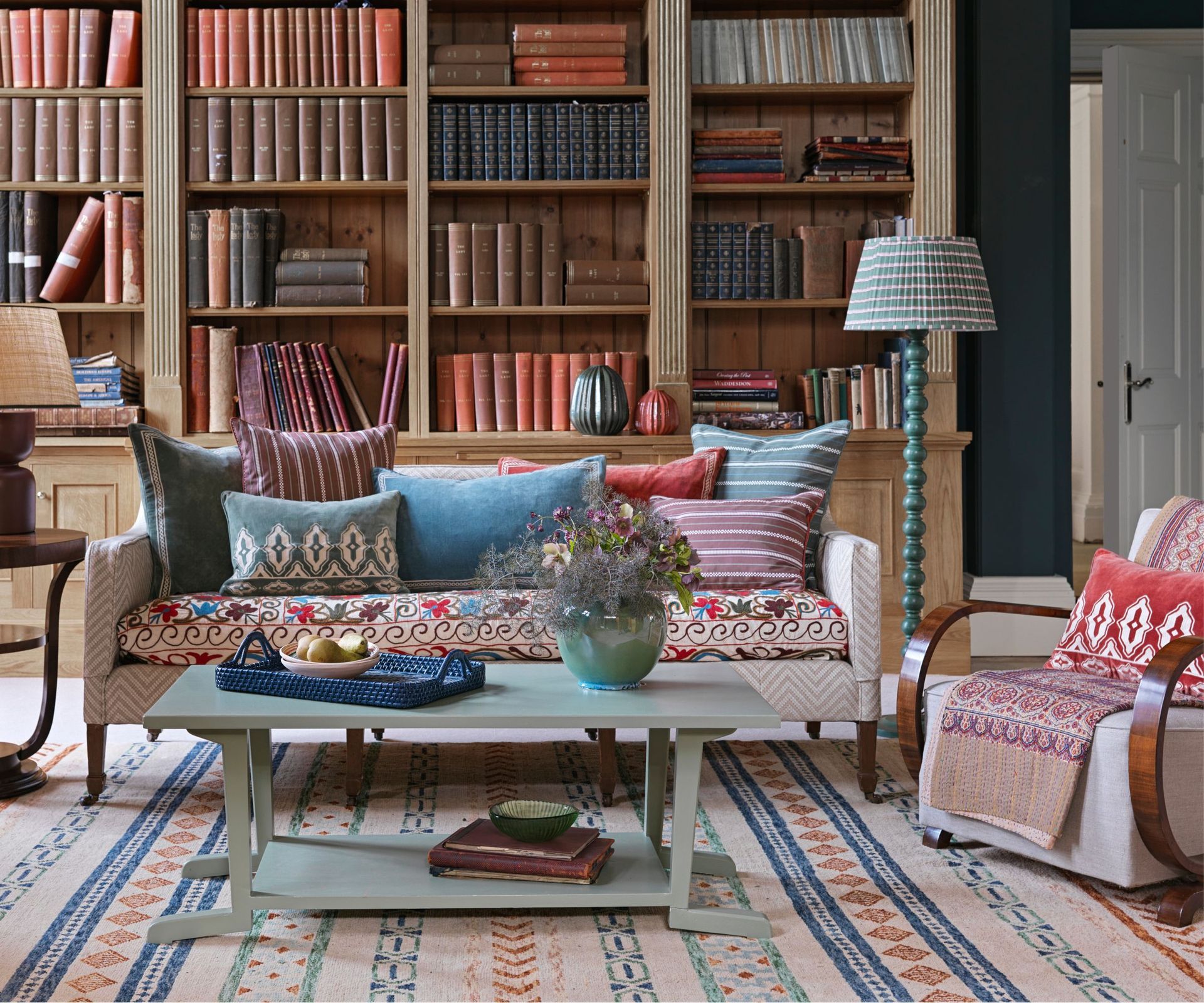 Cushion ideas are one of the easiest ways to update your interior in response to seasons or celebrations. Simple to switch out and store when they are not in use, you can have a cushion cover ready for every event.
Roses might be a classic choice for Valentine's day decor, but a more sophisticated and timeless option would be to use the color palette without the overdone and outdated motif. Opt for a design with a frill or trim for added romance. 
'Incorporate diverse textures into your design to add intrigue and depth. Velvet, silk, and metallic elements will offer a glamorous touch to your room,' advises Artem Kropovinsky, interior designer and founder of Arsight (opens in new tab).
This delightful and well-chosen design by Birdie Fortescue (opens in new tab) exudes all the comfort and warmth we associate with this romantic time of the year. 
3. Update your gallery wall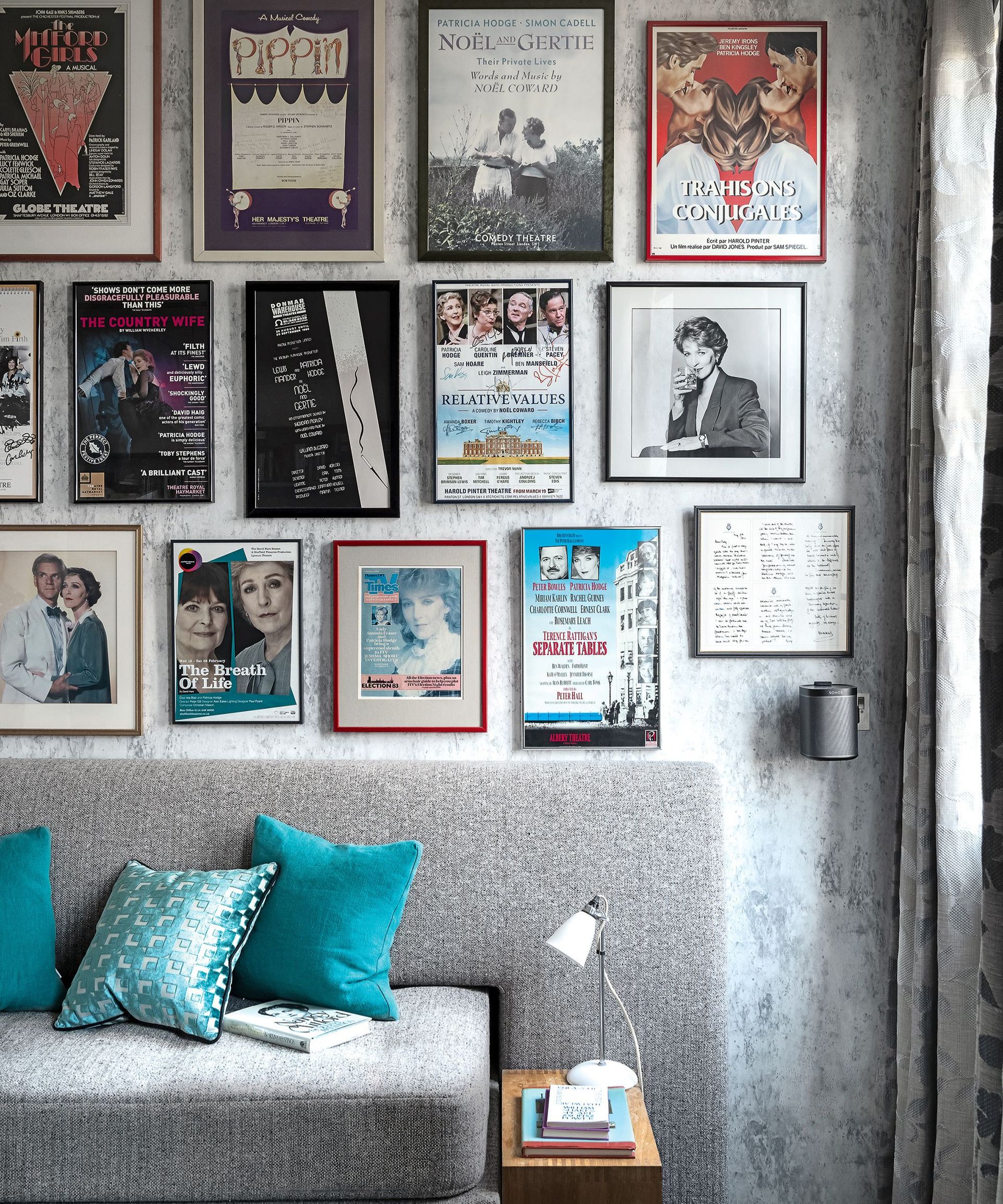 Updating your existing decor not only honors celebrations but will also help your home to feel refreshed and new. If you have a gallery wall, consider having a stock of rotating content that you can switch in and out depending on the time of year. 
For Valentine's day, introducing pictures of places you've been together, a loving quote from your favorite poem, the album cover of the song from your first dance, or a bespoke piece of art are all ways to bring a bit of romance into your wall decor ideas without falling foul of cliches. 
In this home, designed by Tricia Guild of the lifestyle brand Designers Guild (opens in new tab), a gallery wall of theatre prints is a great way to remember favorite date nights and celebrate shared interests. For more ideas, Tricia Guild shares her advice on seasonal decorating.
4. Add a piece of seasonal artwork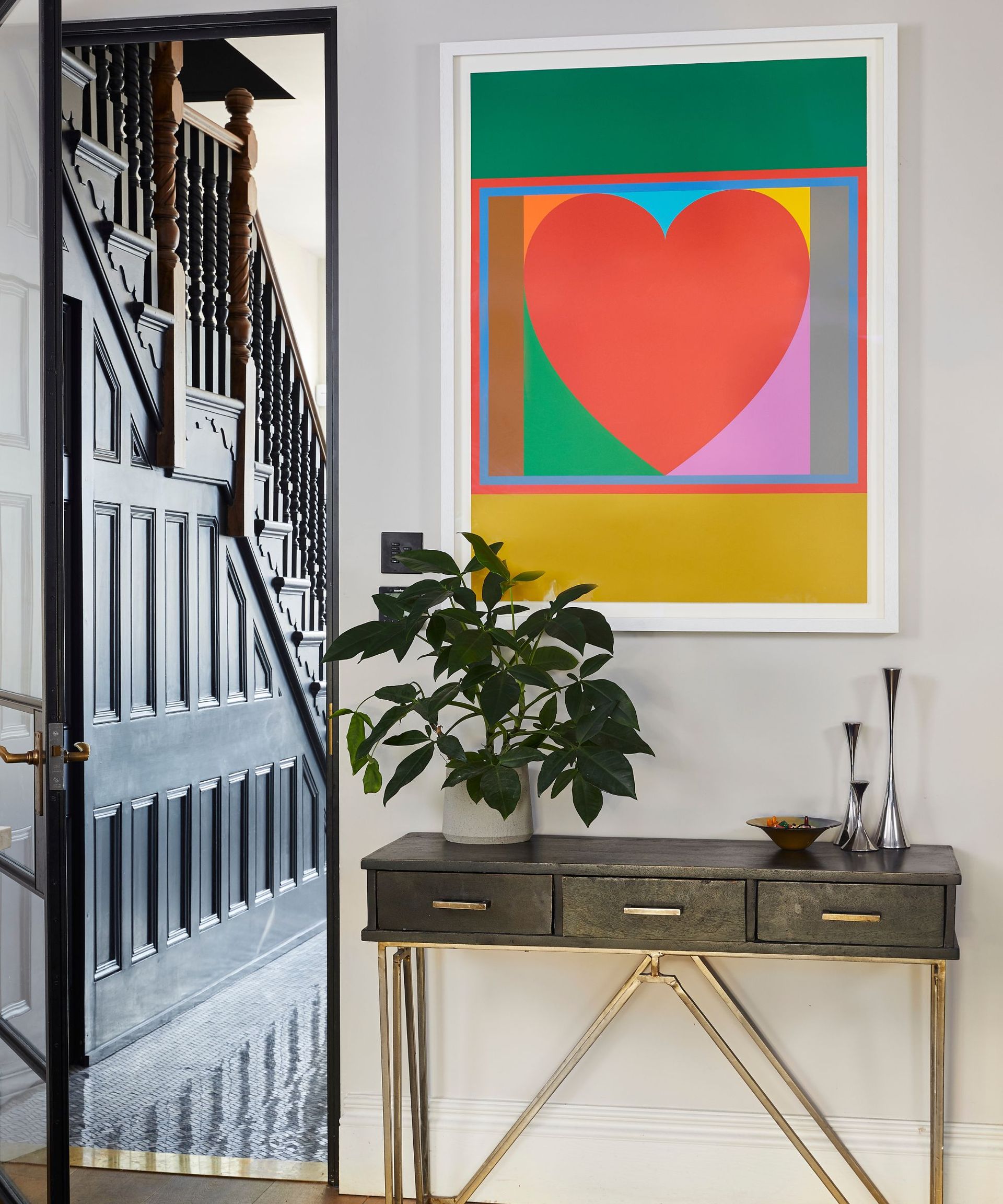 Hearts can be overused when it comes to Valentine's day decor, but when used sparingly  – rather than making it the backbone of your scheme – the motif can create a beautiful statement. 
Decorating with art is a great way to embrace the season. Have a series of different prints that you can swap out for each celebration. Not only is this a great way to mark an occasion but it also keeps your interiors fresh.
You could also use smaller pieces of artwork when styling a shelf to bring a subtle hint of romance to your scheme.
5. Introduce soft bedroom lighting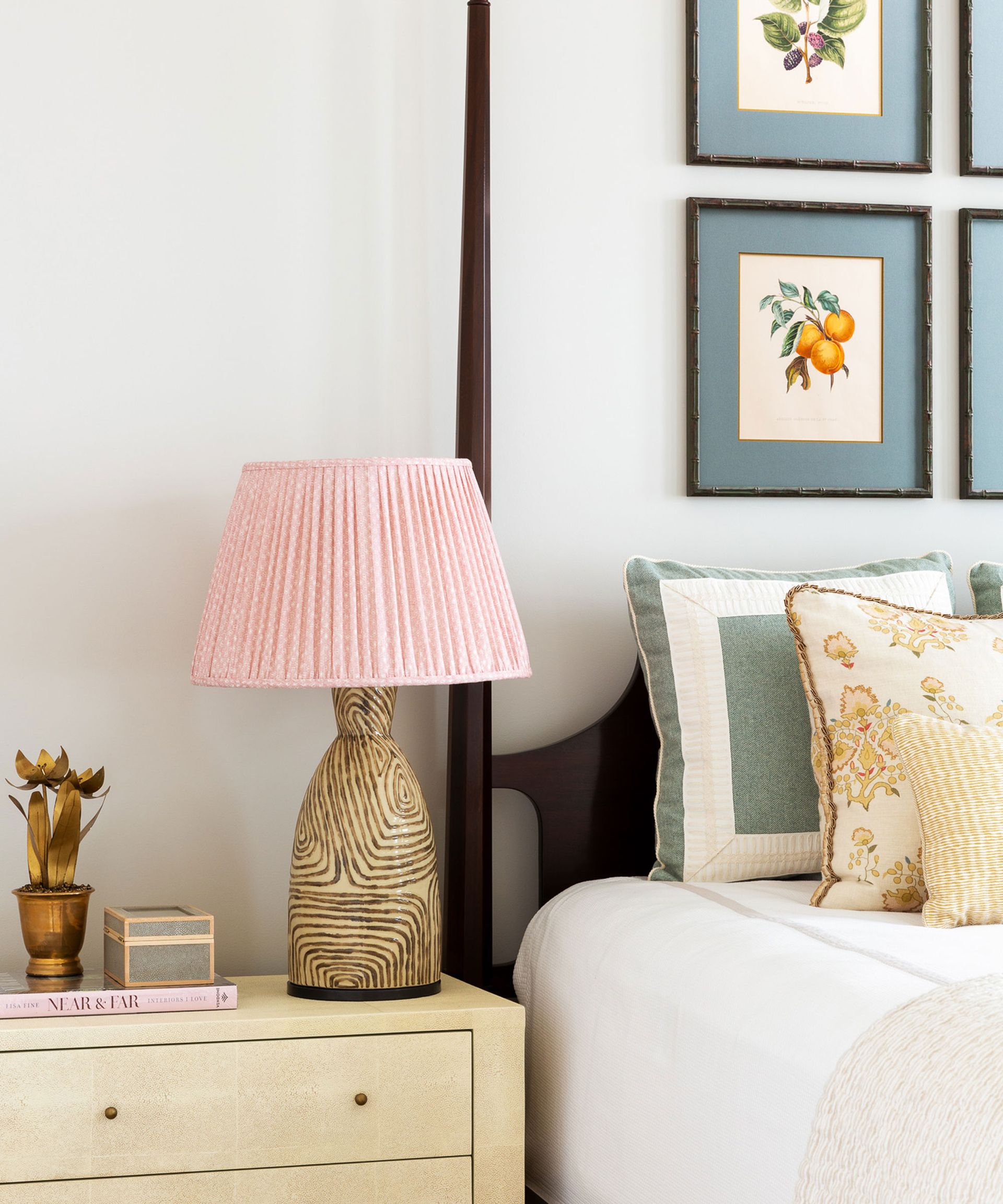 Lighting has a powerful role in decorating a space – especially when it comes to Valentine's Day decor – as it instantly creates a mood. 
'If a cozy feeling together is what you really crave, create a dim glow and opt for an intimate nightstand lamp. From soft glowing lanterns to mystically shaped lamps, you can illuminate your space without overwhelming brightness levels that can overshadow the romantic mood,' says Paula Boston, visual merchandiser at Festive Lights (opens in new tab).
Bedside lamps bring more than just illumination to a space. When paired with a decorative shade, a lamp will bring color and texture, while also filtering light and providing a gentle and atmospheric glow.
In this bedroom. designed by San Francisco-based Margaret Ash Design (opens in new tab), the pretty lampshade adds a subtle pink hue that is not overbearing or jarring. 
Margaret Ash Design is a contemporary interior design firm specializing in full-scale residential and commercial projects. Margaret and her team specialize in designs that reflect diverse influences, modern interiors, and tailored color palettes.
6. Create a bathroom oasis – with seating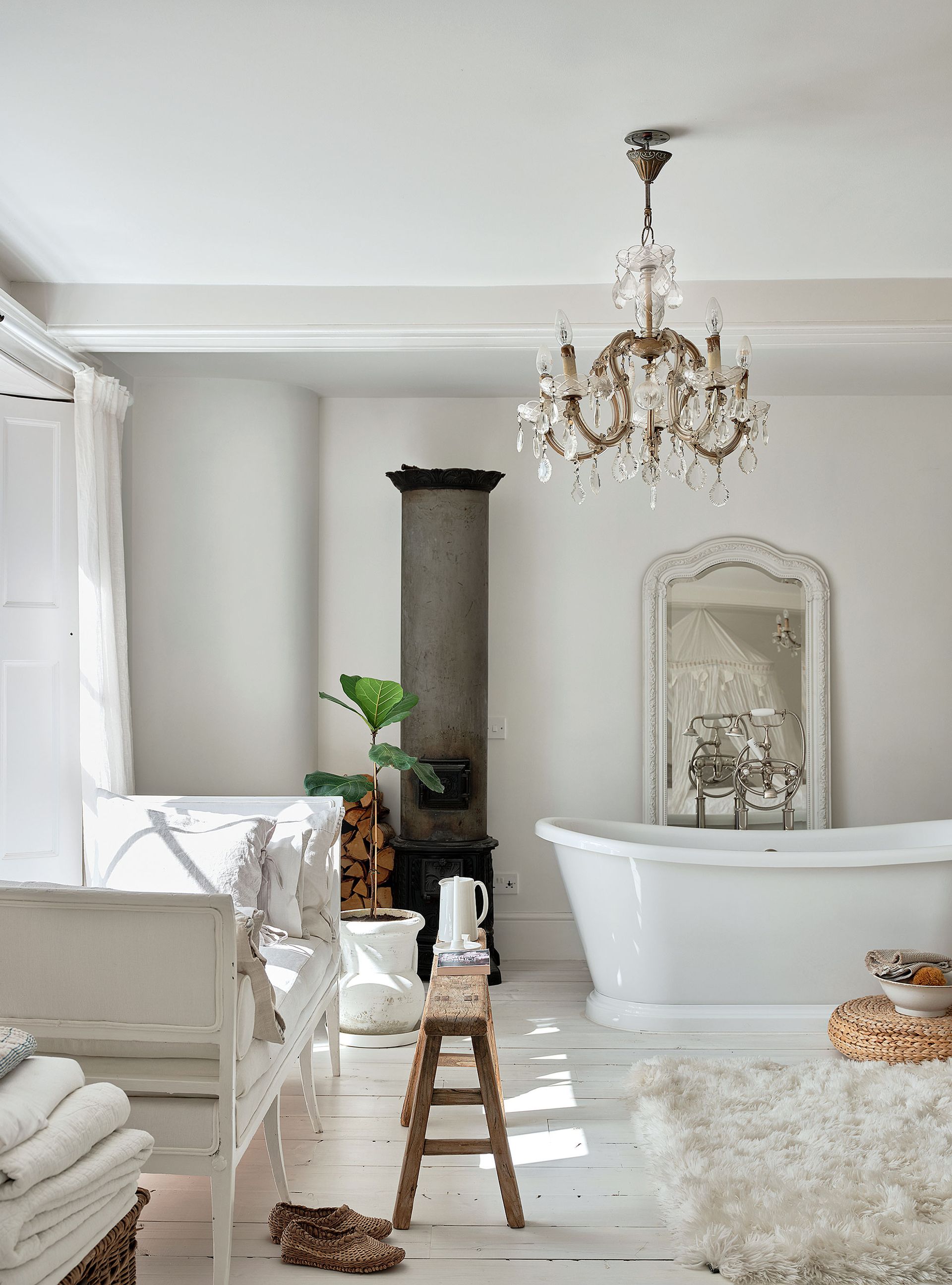 Set the scene for Valentine's Day in your bathroom by creating a romantic and cocooning corner for five-star pampering.
A white-on-white palette is fresh yet sophisticated and, mixed with time-worn antiques, can channel the laid-back chic of an exclusive country spa hotel. 
For her own home, White & Faded (opens in new tab) founder Janet Parrella Van Den Berg layered up the texture – sheepskin, washed linen, and old, whitewashed floorboards – to create a crisp white bathroom that's surprisingly warm and inviting. 
'With a white palette it's all about how the light falls, the sun shines and the shadows play,' she explains. 'White changes through the day and brings details and shapes into focus. It makes me feel uplifted but calm.'
7. Exude romance with a subtle red color scheme and pretty details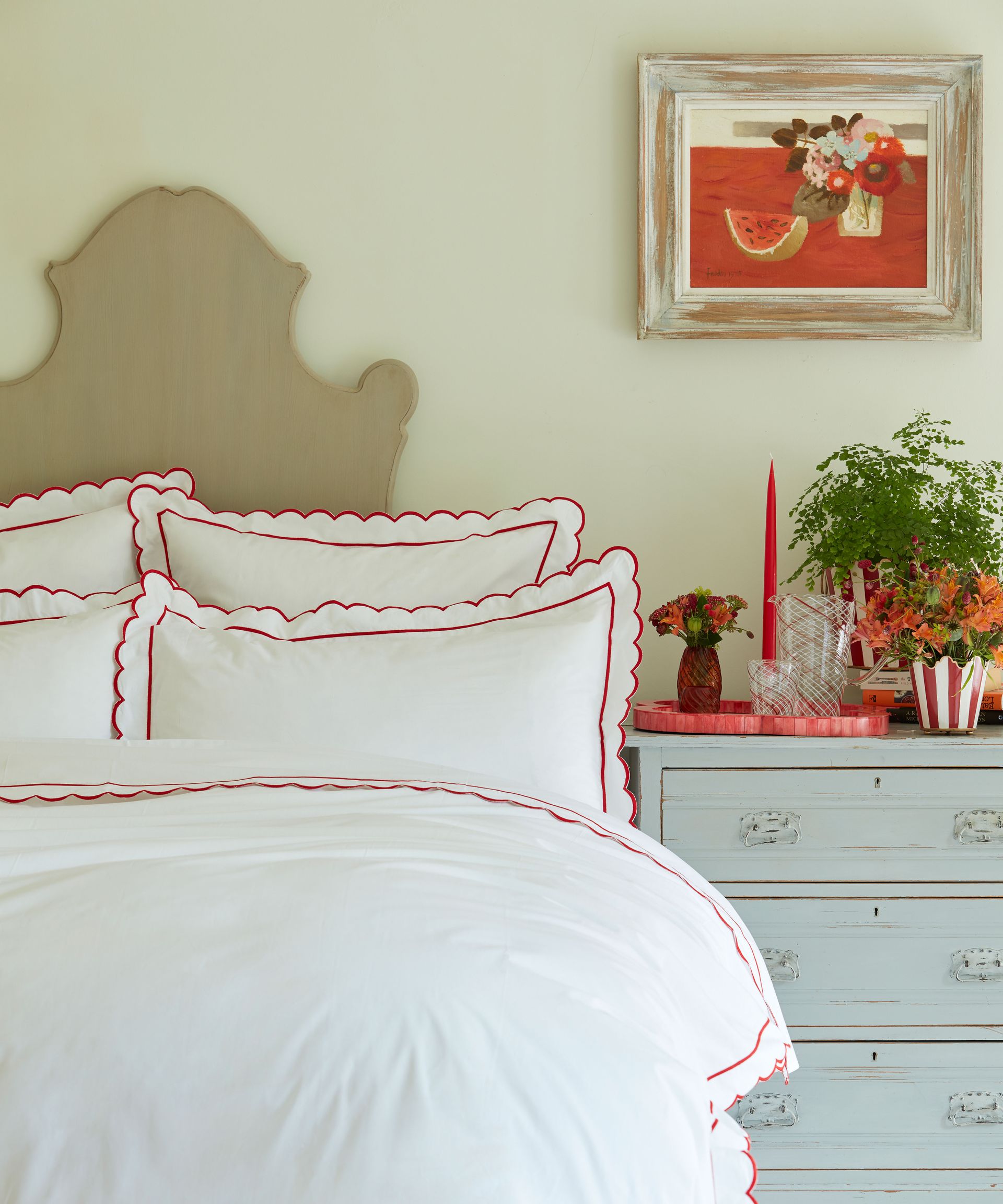 Taking up a large proportion of a bedroom's footprint, your bedlinen can have a huge impact on the look and feel of a space. Knowing how to dress a bed will definitely help you to give your bedroom a seasonal feel. 
'Decorating with red gives a room that Valentine's Day feel without being too bright or cliche and the color is versatile enough to use at other times of the year, such as Christmas and Thanksgiving. I personally love the color of red wine for this and find that it pairs well with most home decor styles,' says interior designer Raquel Kehler (opens in new tab).
In this example of Valentine's bedroom styling, elegant scalloped bedlinen with red piping provides the perfect hint of Valentine's without dominating. Dress your bedside table in the same vein for a cohesive yet classy scheme.
8. Set up a snug dinner setting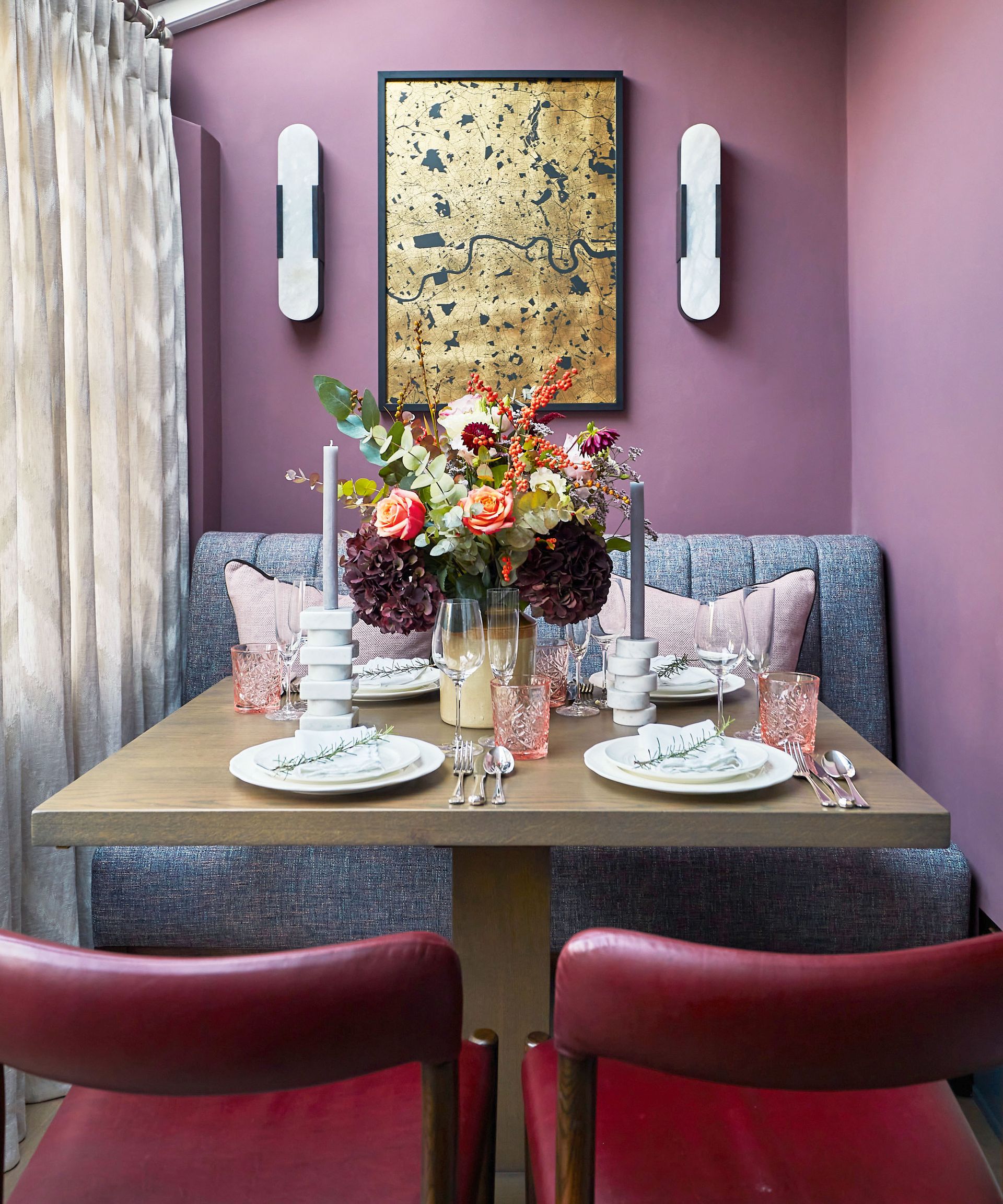 This one may not be a true snug room, but its diminutive proportions make it just as cozy as one. Use dining room lighting ideas to create a cozy corner that is anything but dull or dreary. 
Ideally, an element of the lighting in a dining room setting should be subtle and ambient (and preferably dimmable) so the space can be used for lots of different situations once Valentine's Day is over – from informal family gatherings and celebrations to raucous dinner parties, recommends interior designer Henry Prideaux (opens in new tab). 
When he was designing the small dining room in a glazed area overlooking the garden at the back of the house, the brief was to create a flexible, versatile space that could be tailored to suit a variety of occasions. 'Width restrictions meant the wall lights needed to be both slim and vertical to work with the piece of art in the center,' says Henry.
How can I decorate my house for Valentine's Day?
Cushions, artwork, throws and the best linen sheets are all great ways to decorate your house for Valentine's day. Bedside lighting ideas are also a key tool for decorators providing control of ambiance and atmosphere. 
'Decorate with tealights or votive candles and place them in glass candleholders. The flickering lights from the candles have a romantic, cozy vibe that's perfect for Valentine's day. I prefer candleholders made of colorful glass, as this casts beautiful colors across the table. For a sophisticated twist, get a set of candleholders of the same color (the heights can vary) and line them up in rows of three,' says interior designer Raquel Kehler.