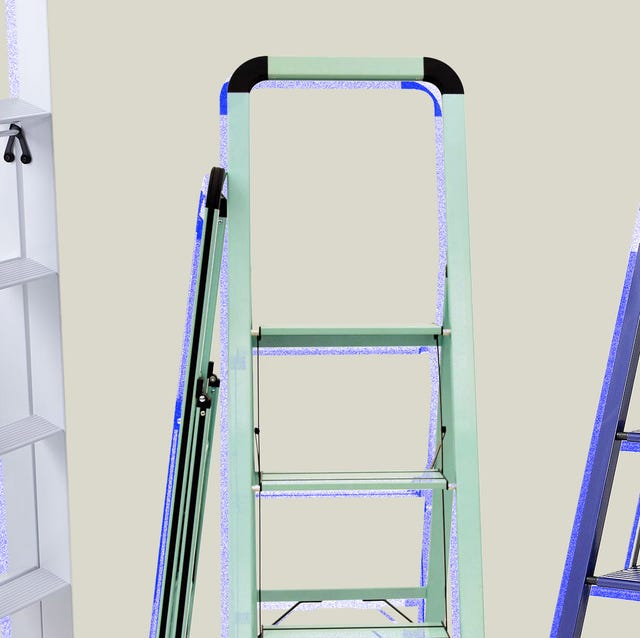 Courtesy
If you can touch your ceiling, your home is either too small or you're too tall — perhaps both. At 5-foot 9-inches, I'm about average height and there are still cabinets in my home that are beyond my reach, even when I'm on my tippy-toes. To reach the top shelf, I need help. A chair, perhaps? No. Worker's Comp organizations make posters that say "Don't you dare stand on a chair" on them. You can even read hundreds of falling-from-chair horror stories in the Occupational Safety and Health Administration's accident log. Climbing on the counter is similarly daunting.
The solution is a nice-looking stepladder, which you might (wrongly) believe to be an oxymoron. Usually relegated to the garage, the unsightly contraptions hide in darkness, gathering cobwebs and dust, until there's a top-shelf conundrum. How about we skip the garage bit? These nine stepladders will help you move up in the world and don't look terrible doing it.
The Best Stepladders of 2022
Advertisement – Continue Reading Below
It won't let you reach the highest levels, but the $20 Grubban gives you a 16-inch vertical boost in a cute little stepping stool.
Empower Ultraslim 3 Step Lightweight Ladder
This Empower stepladder is available in three attractive colorways, and has an above-average weight capacity, clocking in at 300 pounds. When folded, it's just two inches thick, and it's backed by a one-year warranty.
Xtend & Climb SL2HLight Slimline 2 Step Ladder
Xtend & Climb's home series of stepladders is made of industrial-grade aluminum that's lightweight and sleek. The stepladder has a slim profile so it can be stowed away in tight places.
WFX Utility 3-Step Aluminum Lightweight Folding Step Stool
This extra-slim, super-tall folding stepladder has stable rubber feed and wide treads for added safety. With its 225-pound weight capacity, it's one of the most affordable and trust-worthy stepladders you can find.
Frontgate Ultralight Slimline 2-Step Ladder
Frontgate ladders come in a variety of bold colors so they're a standout piece as much as they are functional. The seven-pound ladder has nonslip steps and rubber feet for extra safety.
Sorfey Aluminum/Bamboo Folding 3 Step Ladder
A similar shape to the Frontgate, Sorfey's stepladder is about the same price with an extra step. The black frame and wood-like platforms are a nice design touch.
Hasegawa Lucano Lightweight Japanese Step Ladder
Hasegawa Kogyo Company, which has been making ladders and scaffolding in Japan for over 60 years. The stepladder is made of hand-assembled aluminum and steel with a satin powder-coat finish in a color of your choice.
Kartell's Upper stepladder, designed by Alberto Meda and Paolo Rizzatto, is a combination of transparent polycarbonate and chromed steel. Although it's foldable, you might want to keep it open and have it as a stand for plants and other small pieces of home decor.
Design House Stockholm Step
Truly a vanity piece, this $625 stepladder won accolades from Wallpaper and Sweden's Elle Decoration. It's made of solid oak and comes with a hook so you can hang it on the wall.
The 21 Best Office Chairs of 2022
Everything you need to know to find an office chair best suited to your needs, including ergonomics, price, aesthetics and features.
LEARN MORE
This content is created and maintained by a third party, and imported onto this page to help users provide their email addresses. You may be able to find more information about this and similar content at piano.io
Advertisement – Continue Reading Below